MOSSEL BAY NEWS - The third school term started with a higher than usual police presence in KwaNonqaba and at Indwe Secondary School this week.
Learners arrived at school on Tuesday, 9 July, to find members of the KwaNonqaba police and their colleagues from other police stations in the Da Gamaskop Police Cluster at the entrance to the school grounds.
Members of the public order policing unit from George were stationed at strategic points in the neighbourhood. At the gates to the school premises, two lines were formed and members of the police frisked the learners as they arrived at school. Learners in school uniform on their way to school were also stopped by members of the public order police unit, who engaged with the learners and warned them against carrying items that may be construed as dangerous weapons.
"I think this is a good thing," a girl told the Mossel Bay Advertiser. "At least now we can feel safe while at school and concentrate on our school work."
Before the school holidays the KwaNonqaba police indicated they would maintain a higher visibility at the school after a number of incidents were reported.
Two stabbing incidents at the school, one on Monday, 10 June and another on Wednesday, 12 June were ascribed to gang activity in the community.
In April two learners, in grades 8 and 9, were attacked and stabbed by community members outside the school premises. In this case the principal reportedly also believed the learners were affiliated to gangs.This year, the school has reported two assaults, two stabbings and an incident of burglary and vandalism.
The Western Cape Education Department's (WCED) Safe Schools field worker reported earlier that he has asked for additional support from the police and requested that they increase police visibility in the area.
Several community leaders and members of various churches have also congregated at the school to pray for the learners and for the situation at the school to normalise. Police members spoke with the learners to warn them of the long term effect of criminality and the need for young people to steer clear of gang activity.
"Now we have to concentrate on our studies. The final exams are not too far off," a young learner said.
Sergeant Norman Cupido of the KwaNonqaba police warned an Indwe Secondary School learner about gang peer pressure as he frisked him.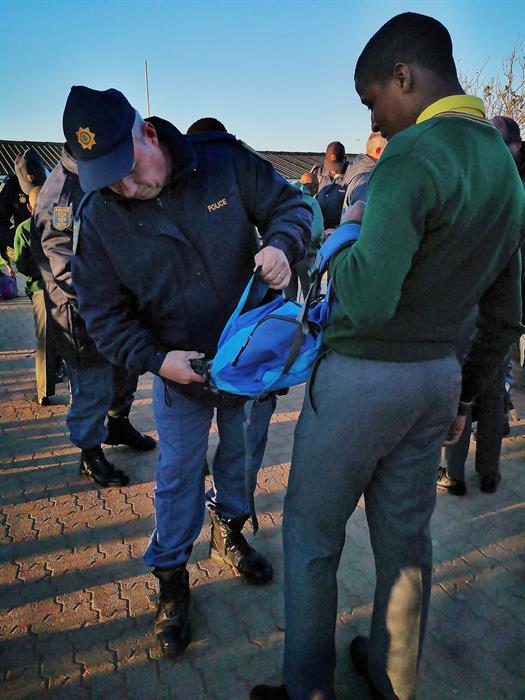 Police officers used metal detectors to find potentially concealed dangerous weapons.
'We bring you the latest Mossel Bay, Garden Route news'