Video
MOSSEL BAY NEWS AND VIDEO - "The power of this campaign is not in the unity of the living, it's in the voices of the departed. They must speak, and they will. Our job is simply to create a platform for them to do that. And we will not fail them," says Morné Swart, founder of #OurVoices and the #ShutSADown movement.
Swart is currently in Mossel Bay preparing for the #OurVoices mission to demand a safer South Africa and to fight against the murders of women, children and farmers.
The movement will soon deliver its message to Parliament. The #ShutSADown group has grown exponentially since it was founded. The group currently has 265 000 members.
Early in July, Nuno Morais walked and Swart travelled in a car wrapped with the names of murdered children and women, from Johannesburg to Cape Town, where they planned to deliver a list of demands and solutions to Parliament.
Protocol did not allow them to deliver the message, but they will follow the correct procedures to get it to Parliament.
Watch the video of Morné Swart describing the wrapped vehicle here:
"We demand change because we cannot allow another 178 302 people to be murdered during the next ten years. And we can't allow another 567 720 women to be sexually assaulted either," Swart posted on the #ShutSADown Facebook page.
"#ShutSADown, is a caring, loving and non-violent movement," says Swart. We movement believes in the constitutional right to protest peacefully for a better future for all South Africans. It also believes in democracy. "We are the voice of those who can't speak anymore," said Swart.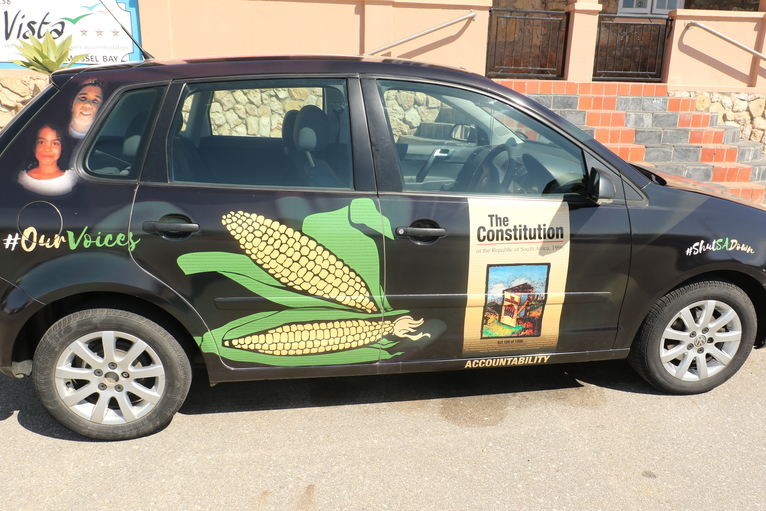 The vehicle, covered with pictures and names of people murdered in South Africa.
'We bring you the latest Mossel Bay, Garden Route news'