NATIONAL NEWS - South Africa is implementing a new demerit system for driving offences, set to come into effect on July 1.
The demerit system will go hand-in-hand with the Administrative Adjudication of Road Traffic Offences (Aarto) Act as both will serve to penalise drivers and fleet operators who regularly disobey road laws.
A certain number of demerit points will lead to suspension or cancellation of driver's licences.
The Aarto Act will also encourage the payment of fines, as well as save time in court as the initial option to elect to appear in court will be removed.
The number of points a driver incurs will be dependent on the offence committed; there are over 2 500 offences that could be committed.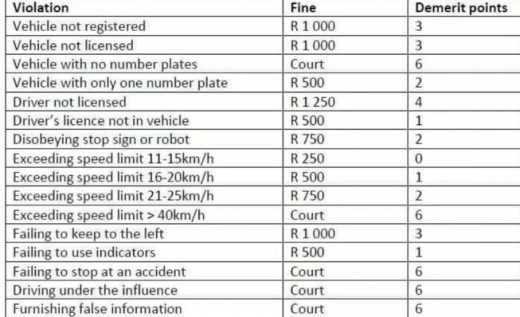 The Aarto Act and demerit system are planned to be implemented on July 1, but this is reliant on several governing bodies, including the South African Post Office (SAPO) and Government Printing Works.
Demerit points will work as follows:
If accumulated demerit points exceed the maximum of 15, the driver will be disqualified from driving or using their vehicle for three months for every point exceeding 15
Points for each offence or infringement range between six and one
The maximum for a learner driver is six points
The time value of each point is three months for disqualification or reduction purposes
If demerit points are allocated to a person or vehicle's record and no further points are accrued over the three months after receiving the point/s, a reduction of one point on the total number of demerit points will be recorded on the system
A person's driving licence must be handed in during the disqualification period
Upon a third disqualification, the licence will be cancelled. A person must then apply for a new learner's licence and driving licence once the disqualification period is over.
Mdu Ncalane, spokesperson for the City of uMhlathuze said, 'Our city is one of the first municipalities where this system will be implemented. Our members were part of the initial workshops conducted by the national and provincial transport departments. uMhlathuze Municipality will be ready for this system to be implemented on 1 July.'