LIFESTYLE NEWS - A phobia is an intense fear of something that in reality poses little or no actual danger.
Phobias of virtually anything can be developed: Disposophobia – fear of throwing stuff out or hoarding; Dutchphobia – fear of the Dutch; Ephebiphobia – fear of teenagers; Anthophobia – fear of flowers.
Most phobias develop in childhood, but they can also develop in adults.
The 10 most common phobias
Arachnophobia: The fear of spiders. This phobia tends to affect women more than men.

Ophidiophobia: The fear of snakes. Often attributed to evolutionary causes, personal experiences or cultural influences.
Acrophobia: The fear of heights. This fear can lead to anxiety attacks and avoidance of high places.
Agoraphobia: The fear of situations in which escape is difficult. This may include crowded areas, open spaces, or situations that are likely to trigger a panic attack. People will begin avoiding these trigger events, sometimes to the point that they cease leaving their home.
Cynophobia: The fear of dogs. This phobia is often associated with specific personal experiences, such as being bitten by a dog during childhood.
Astraphobia: The fear of thunder and lightening. Also known as Brontophobia, Tonitrophobia, or Ceraunophobia.
Trypanophobia: The fear of injections. Like many phobias, this fear often goes untreated because people avoid the triggering object and situation.
Social Phobias: The fear of social situations. In many cases, these phobias can become so severe that people avoid events, places and people that are likely to trigger an anxiety attack.
Pteromerhanophobia: The fear of flying.
Mysophobia: The fear of germs or dirt.
The difference between normal fears and phobias
It is normal and even helpful to experience fear in dangerous situations. Fear is an adaptive human response. It serves a protective purpose, activating the automatic "fight-or-flight" response. With our bodies and minds alert and ready for action, we are able to respond quickly and protect ourselves.

But with phobias the threat is greatly exaggerated or nonexistent. For example, it is only natural to be afraid of a snarling Doberman, but it is irrational to be terrified of a friendly poodle on a leash, as you might be if you have a dog phobia.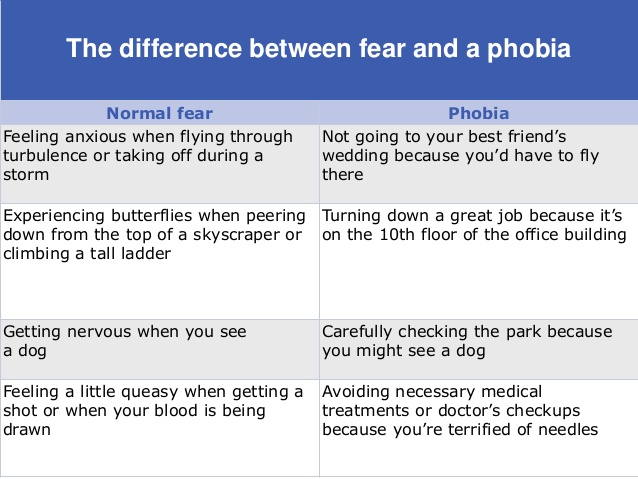 Normal fears in children
Many childhood fears are natural and tend to develop at specific ages. For example, many young children are afraid of the dark and may need a nightlight to sleep. That doesn't mean they have a phobia. In most cases, they will grow out of this fear as they get older.

If your child's fear is not interfering with his or her daily life or causing him or her a great deal of distress, then there's little cause for undue concern. However, if the fear is interfering with your child's social activities, school performance, or sleep, you may want to see a qualified child therapist.

Phobias are common – you're not crazy
Understanding your fear or phobia is the first step to overcoming it. It's important to know that phobias are common. Having a phobia doesn't mean you're crazy. You can overcome your anxiety and fear, no matter how out of control it feels. Phobias are highly treatable and can be managed and cured. Self-help strategies and therapy can help you overcome your fears so that you can start living the life you want.