Video
MOSSELBAAI NUUS EN VIDEO - Verskeie sportvissermanne het nou genoeg gehad van die verbod op sportvisvang, aangesien die klem nou verskuif het van 'n sport of stokperdjie na oorlewing om kos vir hulle gesinne op die tafel te kry.
Menige plaaslike vissermanne vang daagliks vis om kos te kan voorsien.
Volgens die nasionale inperking, is daar in vlak 5, 4 en heel moontlik ook op vlak 3, steeds 'n verbod op sporthengel. Dit sal volgens die regering se beplanning, waarskynlik eers tydens vlak 2 toegelaat word. Met die jongste verwikkelinge waarvolgens vlakke moontlik in Junie verlaag gaan word, is die kans dat die Wes-Kaap vanweë die hoë infeksiesyfer, dalk op vlak 4 sal bly.
Lede van die vissersgemeenskap, in reaksie op die beperkings het Maandag, 18 Mei, voor die Da Gamaskop-polisiestasie bymekaargekom om 'n versoekskrif en petisie te oorhandig. Luitenant-kolonel Virgie Julius, hoof van sigbare polisiëring by die stasie, het die vissermanne daarop attent gemaak dat die byeenkoms onwettig is volgens die Wet op Rampsbestuur.
Dawid Kamfer, Wes-Kaapse leier van Icosa en plaaslike raadslid, is deur lede van die vissergemeenskap afgevaardig om namens hulle die woord te doen. Kamfer en Luwayne Prins het die versoekskrif en petisie gedurende die byeenkoms by die stasie gaan oorhandig. Beide Kamfer en Prins is aangekla van oortredings ingevolge die Wet op Rampbestuur. Hulle is elk 'n boete van R2 000 opgelê aangesien die byeenkoms onwettig was.
Kyk 'n video hieronder:
Ontevrede
Van die klagtes is dat lede van die vissersgemeenskap voel die toegelate oefentyd tussen 06:00 tot 09:00 hulle nie insluit. Hulle is ook gegrief daardeur dat hulle hul gesinne nou aan die lewe moet hou sonder 'n inkomste en ook dat hulle glo nie kospakkies ontvang nie. "Kommersiële en bestaansvissers sit op een boot en ons mag nie eers 10 meter uitmekaar gaan visvang nie," het een visserman opgemerk. Hulle lê ook klem daarop dat vissermanne juis nie na aan mekaar sit en visvang nie omdat hulle lyne verstrengel raak.
Nog 'n visserman het verder genoem dat hulle almal oor die nodige permitte beskik om vis te vang, maar eintlik moet hulle 'n terugbetaling van die lisensiegelde ontvang omdat hulle gedurende die inperking nie kon visvang nie. Boonop word nuwe permitte ook nie tans uitgereik nie en diegene wie se permitte verval het, gaan dus onwettig moet hengel as die verbod gelig word. Volgens een van die vissernamme, word hengel glo na bewering in die Bitou-munisipaliteit toegelaat. Die vissermanne mor ook omdat hulle tans soos kriminele behandel en beboet word as hulle gaan visvang om hulle honger kinders te voed.
"Hierdie is viktimisering. Dis dieselfde beginsel soos met sigarette wat verbied word, maar dagga is wettig," het een onstoke visserman gesê.
Vir die volledige video klik die skakel (26:33)
https://youtu.be/TL85_jzOqdg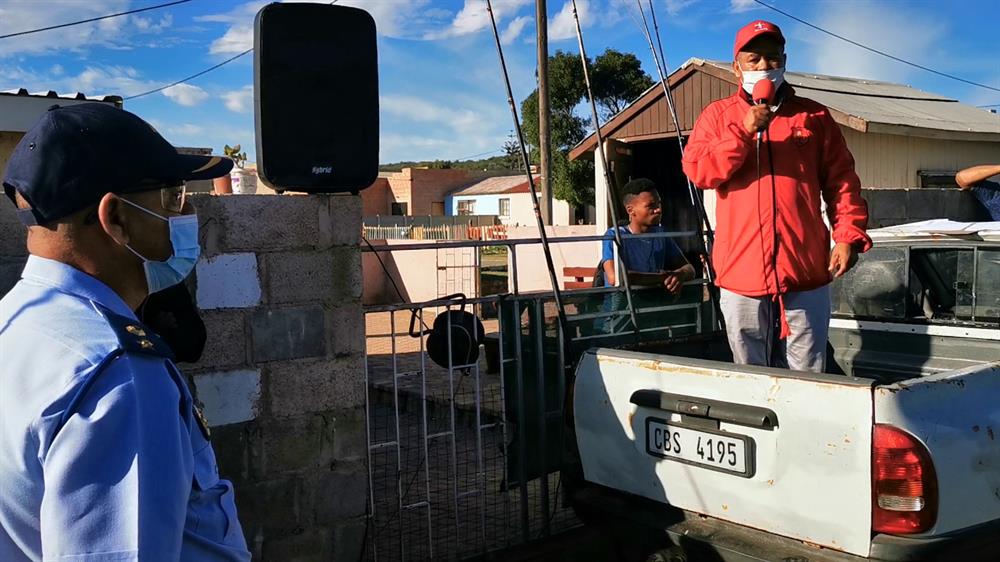 Dawid Kamfer spreek die vissermanne toe terwyl luitenant-kolonel Virgie Julius toekyk. Foto: Jannie du Plessis
Dear reader, As your local news provider, we have the duty of keeping you factually informed on Covid-19 developments. As you may have noticed, mis- and disinformation (also known as "fake news") is circulating online. Group Editors (publications and online platforms) is determined to filter through the masses of information doing the rounds and to separate truth from untruth in order to keep you adequately informed. Local newsrooms follow a strict pre-publication fact-checking protocol. A national task team has been established to assist in bringing you credible news reports on Covid-19.
Vorige artikel: Vissermanne byeen om petisie te oorhandig
'Ons bring jou die nuutste Mosselbaai, Tuinroete nuus'