Gallery
MOSSEL BAY NEWS - Flamingoes are in fashion currently, featuring on key rings, scatter cushions and other decor items, in popular art and on the internet.
In South Africa the flamingo species most prevalent is the greater flamingo. This and the lesser flamingo are the two species of the bird found in South Africa.
Greater flamingoes in significant numbers have been spotted at the Hartenbos River mouth and in the Little Brak Lagoon during August. Mossel Bay Advertiser freelance photographer Elaine van der Toorn took spectacular photographs of them at the Little Brak lagoon.
There were about 50 flamingoes at the Hartenbos River Mouth on one day. These are more birds than are usually seen at a time in this area.
The greater flamingo's plumage is a paler pink than the fierce salmon pink of the lesser flamingo. The underside of the greater flamingo's wings is pink. The wings have black tips. The greater flamingo has a beak with black on the tip.
We all get into a flap sometimes. It's normal.
Greater flamingoes are often seen with their heads under shallow water. They filter algae and organisms from the water and mud through their beaks and it is said their pink colour results from the pigments in the shrimp and different algae they eat.
Sometimes you need to draw the line - a straight one, in the sky.
Flamingoes breed with a different mate each year, laying only one egg. They can live to 30 to 40 years old in the wild. In captivity, they can live to 60 years old. Sources: Wikipedia, Africa Geographic.
Photo gallery: Flamingoes visit Mossel Bay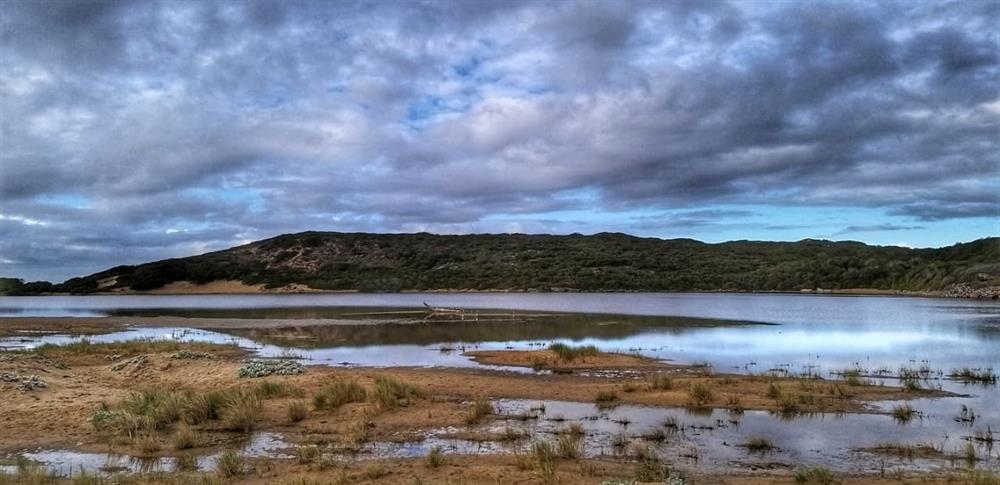 The picturesque Little Brak lagoon. Photos: Elaine van der Toorn
'We bring you the latest Mossel Bay, Garden Route news'