Sponsored Content
BUSINESS NEWS - The December holiday period has come and gone, and feels like a distant memory. With the April school holidays already here, 2021 seems to be rapidly gathering pace in various aspects.
The pandemic has affected us all. We would like to reflect on some key market and currency performances in the last 12 months which have produced interesting, and quite surprising outcomes.
The rand rollercoaster
In January 2020, one dollar was worth R14.36 and by April 2020, it was worth R19.20. In December 2020, it was back at R14.53. Stable interest rates, more government stimulus, commodity strength, record agricultural exports and the global economic recovery could see a calmer and possibly firmer rand in 2021.
JSE
The SA equity market rebounded by more than 67% from lows in March 2020 and closed in December 2020 by 7% in positive territory. Even more significantly, the JSE over the last 12 months, from March 2020 to April 2021, was the best performing market in dollar terms, outperforming the USA, the UK and China by more than 30% in dollar terms. With the USA elections and Brexit completed, and the COVID-19 impact set to improve as vaccines take effect, coupled with stronger growth predictions in China and global economic recovery, it all points to positive news for emerging markets which will benefit the JSE.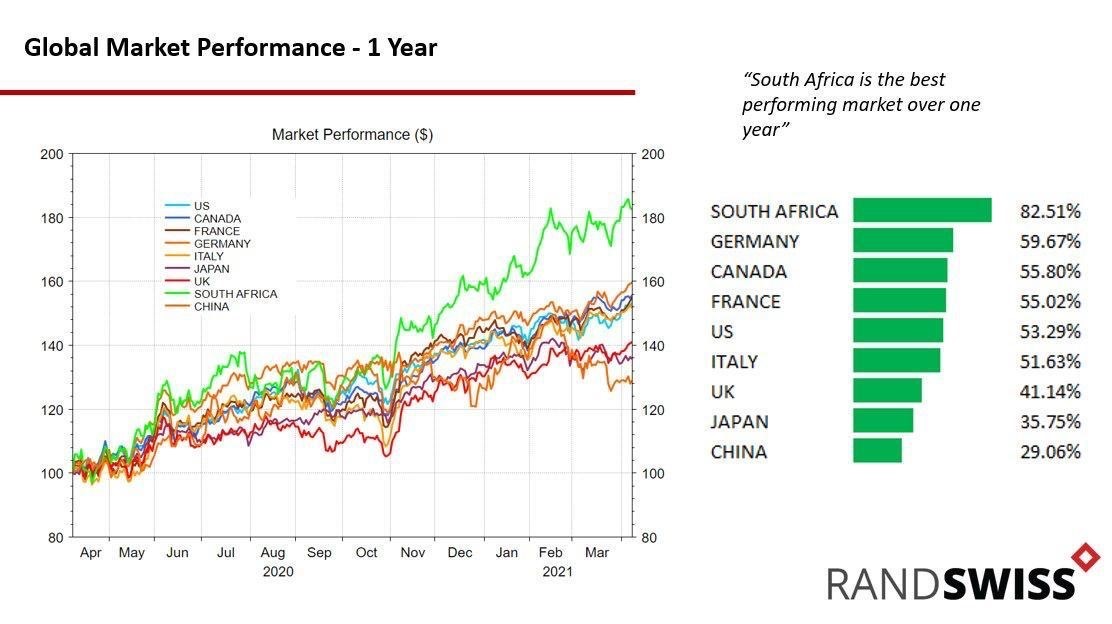 Diversification remains key
Very few people would have predicted the strong performance from the JSE in the last 12 months, and the stronger rand levels that we are currently experiencing. Most investment professionals agree that although it does not guarantee against loss, diversification is the most important component of reaching long-range financial goals while minimizing risk. Having adequate exposure to both local and global markets, and other asset classes such as bonds and cash remains the key ingredient for achieving investment goals.
We cannot predict the future: "We have two classes of forecasters: Those who don't know — and those who don't know they don't know." — Economist John Kenneth Galbraith
We can however manage to minimize risk in our investment portfolios, while achieving our goals.
We expanded our offices in the Garden route area and are now also available in Plettenberg Bay, 7 Gibb Street.
Our office details in the Garden Route:
PSG Mossel Bay Diaz
Sioux Building
16 Sioux Street
Mossel Bay
PSG George Central
Dynarc House, 2nd Floor
31 Courtenay Street
George
Follow us online:

'We bring you the latest Garden Route, Hessequa, Karoo news'