Gallery Update Video
TUINROETE DISTRIK SPORTNUUS EN VIDEO - Danabaaier Rian Brandt (58) het op 'n goeie dag in 2020 wakker geword en gevoel dat hy daadwerklik iets moet doen wat volgens hom, 'n groot verskil in 'n klomp mense se lewens kan maak.
Die gedagte was 'n maandlange fietstoer om bewusmaking te skep vir die doelwitte van die nie-politiese organisasie, CapeXit wat die onafhanklikheid van die Wes-Kaap bepleit.
CapeXit se onafhanklikheidsideale kan slegs bereik word deur die ondersteuning van die Wes-Kaapse bevolking op plase, in dorpe en stede. In 'n toegewyde poging om meer Weskapenaars aanboord te kry, het die Brandts besluit om 'n maand van hulle tyd op te offer.
Die fietstoer het op 1 Februarie in Plettenbergbaai begin en volgens beplanning sal die eindpunt op 22 Februarie in Lambertsbaai bereik word.
Fotogalery: Fietstoer vir bewusmaking
Tydens sy reis van knap oor 1 000km, sal Brandt 19 dorpe besoek. Sy vrou Anèl en seun Leroux vergesel hom as sy ondersteuningspan.
Interessant genoeg, was fietsry nie voorheen deel van Brandt se leefstyl en oefenprogram nie. Maar in Augustus 2020 het hy hom begin toewy aan die bewusmakingsdoelwit wat hy vir homself gestel het, ter wille van die ideaal van 'n onafhanklike Wes-Kaap.
Kyk 'n video hieronder:
Volgens Mia van Wyk, CapeXit-aktivis in die Suid-Kaap wat vir van die mediadekking tydens die toer verantwoordelik is, was Brandt se aankoms Woensdag, 3 Februarie op Groot-Brakrivier nogal emosioneel.
"Daar was 'n paar mense wat hom ingewag en lekker geraas gemaak het," berig Van Wyk. Bestuurder van De Dekke Spar, Gerhard Moolman het 'n pakkie aan Brandt oorhandig. Brandt het gister, 4 Februarie op Mosselbaai by die Punt aangedoen en was vroeër vandeesweek ook op Wildernis en George.
"CapeXit vra die reg om 'n referendum uit te roep sodat die mense van die Wes-Kaap, 'n sê kan hê en besluit of hulle 'n onafhanklike land wil word en besluit of hulle wil wegbreek van Suid-Afrika, en outonoom wil regeer," sê Brandt in 'n onderhoud met die Mossel Bay Advertiser.
"Dis belangrik dat Weskapenaars moet aandui dat hulle onafhanklikheid wil hê. "Hulle kan nie so 'n besluit neem as hulle nie weet van CapeXit nie. Dit is waarom Rian op die pad is," beklemtoon Van Wyk.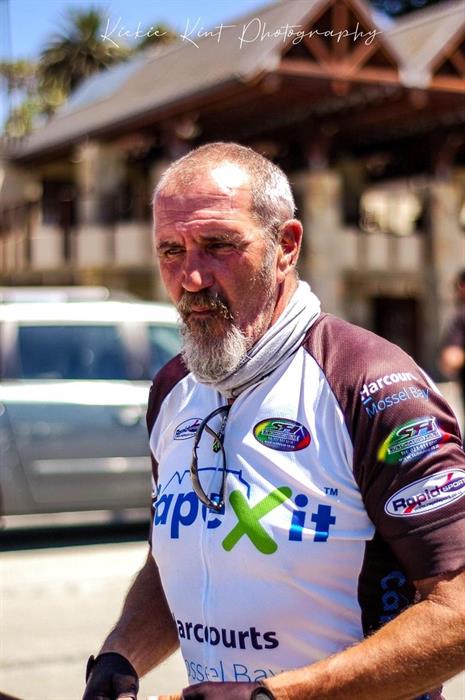 Rian Brandt van Danabaai. Foto: Kiekie Kint Fotografie
Zoè Pretorius probeer Riaan Brandt se fiets op Wildernis. Foto: Kiekie Kint Fotografie
Vorige artikel: Fietstoer vir onafhanklikheid
'Ons bring jou die nuutste Tuinroete, Hessequa, Karoo nuus'