TUINROETE NUUS - Die Bestmed-straatmylreeks bied vanjaar meer as net 'n myl se hardloop. Wat begin het in die Suid-Kaap as drie Desember straatmyle se hardloop, het nou uitgebrei om nog meer mense deelname te bied gedurende die Desembervakansie.
Die straatmylreeks wat oorspronklik in Oudtshoorn, George en Hartenbos atlete sien poog het om nie net te wen nie, maar om die afstand onder vier minute af te lê, het nou gegroei van die straatmyle na, fietsrenne en kermesse en vanjaar bergfietsrenne en voetslaanroetes bygekry.
Die 2018 Bestmed-straatmylreeks word op Woensdag 14 November in Hartenbos bekendgestel. Bestmed is weer eens die anker- en naamborg vir dié gewilde vakansiereeks. Die fietsry-kermesse by die NMU George-kampus wat, verlede jaar as gevolg van swak weersomstandighede afgestel moes word, is weer op die program vir 2018. Bestmed bied ook verskeie aktiveringsprogramme op van die Suid-Kaapse strande aan.
Dit sal Saterdag, 15 Desember op Oubaai en Donderdag, 20 Desember op Hartenbos plaasvind.
Nuwe verwikkelinge
Dave van der Walt, operasionele bestuurder van die Klein-Karoo-atletiekfonds (KKAF), sê hulle beplan vanjaar om dit verder uit te brei om bergfietsrenne en voetslaanstaptogte op die NMU program in te bring. Die reeks word weer onder die beskerming van die KKAF en in vennootskap met ASWD, Eden Fietsry, NMU, Wes-Kaapse departement van kultuursake en sport, Kovsies en die ATKV aangebied. "Hierdie vennootskap ondersteun die visie van 'n gesonde leefstyl en as sulks is hierdie borgskap net tot voordeel van sport en gesondheid in die Eden distrik," sê Van der Walt.
Soos verlede jaar word medaljes weer toegeken, asook 'n prysgeldbeurs van R110 000 wat aan die gaan die top mylatlete en -fietsryers.
"Die uniekheid van hierdie reeks lê reeds in die feit dat elke dorp sy unieke straatmylidentiteit behou maar tog deel vorm van die Bestmed-straatmylreeks deurdat die Grand Prix-wenner oor al drie byeenkomste bepaal word."
Die eerste been van die reeks word op Oudtshoorn aangebied en staan bekend as die Bestmed Klein Karoo-straatmyl. Dit vind plaas in Baron van Reedestraat op Maandag, 17 Desember. Die tweede been vind op die NMU George Kampus (Saasveld) plaas op Woensdag, 19 Desember en en staan bekend as die Bestmed Madibaz-straatmyl. Die derde been vind op Vrydag, 21 Desember by die ATKV-terrein in Hartenbos plaas as en staan bekend as die Bestmed-ATKV-straatmyl.
In die afgelope vier jaar is nie minder as ses droommyle (sub vier minute) in die reeks gehardloop nie.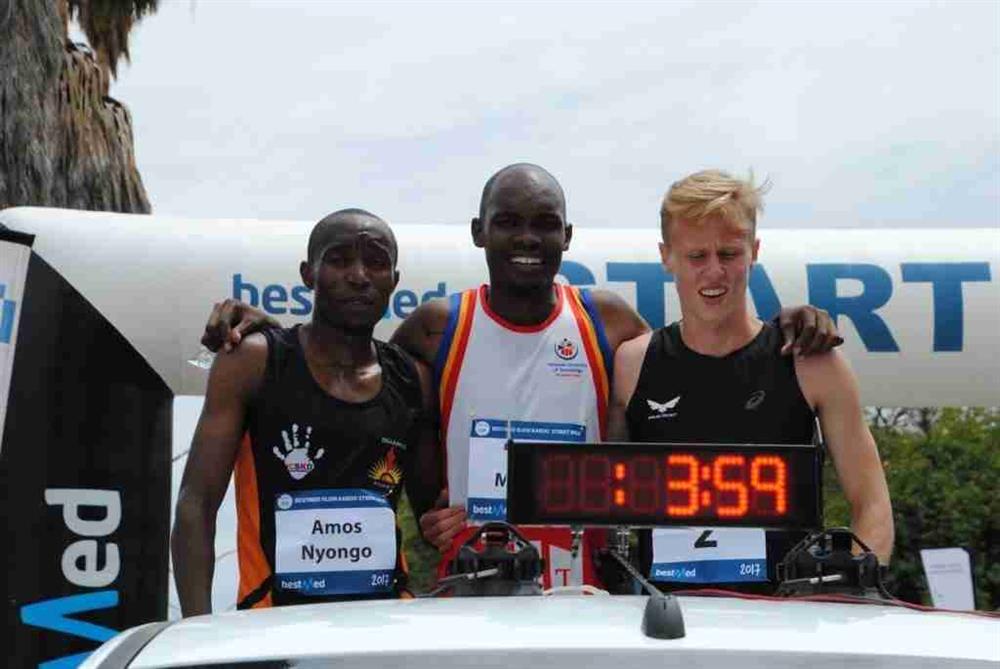 Amos Nyongo (4:00:61), Jerry Motsau (3:59:81) en GeorgeKusche (4:01:33) wat reeds goeie tye afgelê het in die Bestmed-straatmylreeks.
Baie talent te siene
Die atletiekstraatmyle word in die volgende kategorieë aangebied: sub-juniors (9-13), juniors (14-19), Elite/Ope (20-39) en 40+. Daar is ook vanjaar addisionele pryse vir die eerste Eden (SWD)-atlete oor die wenstreep. Die fietsry-mylren (Oudtshoorn) asook die kermesse (NMU) se kategorië is sub-juniors (o/9, o/11 en o/13], juniors (o/15 en o/17), elite (o/19, o/23, veterane 34 en jonger), en veterane (35- 49), asook veterane 50+.
Van die top atlete en fietsryers wat alreeds hulle belangstelling aangedui het, is Anuscha Nice, Kesa Molotsane, Amos Nyonga, Jerry Motsau, Simonay Wietsz, Elana Meyer's EDUROCAD 20 atlete, Kovsies, Maties, UWC, NWU (Pukke), om maar 'n paar te noem.
Volgens Corné Bence, voorsitter van Eden Fietsry, het die volgende top fietsryers alreeds belangstelling getoon: Protea-ryers Jolandi de Villiers, Anriette Schoeman, Ashley Parsons, Louis Visser, Marshall Hendricks, Ivan Carstens, Alex Parsons, Theuns van der Bank en Philo Verlaat. Die Giant -span het reeds bevestig en die ontwikkelingspan van Bestmed is ook in die kaarte.
"Sonder borge van formaat kan so 'n reeks beslis nie aangebied word nie." Aanvullend tot die borge reeds genoem, is Group Editors (media-vennootborg), EdenFM (radio-vennootborg), Oudtshoorn Ford (voertuigborg) en Klein Karoo Internasionaal ook aan boord.
Daar word ook met Dryland Event Management onderhandel om deel van die projek te word.
Inskrywings word aanlyn gedoen – besoek gerus www.edenmiles.co.za . Alle reëlings rondom die byeenkomste en akkommodasie kan ook op dié webtuiste gevind word.
Vir enige navrae kontak asseblief die organiseerders deur www.edenmiles.co.za of skakel Hans van der Veen (083 462 0477) of Dave van der Walt (082 773 4901).
'Ons bring jou die nuutste Mosselbaai, Tuinroete nuus'