NATIONAL NEWS - Police in the West Rand District showed no mercy during yet another major joint operation on Thursday, 18 June, this time in Merafong and its surrounding areas.
A total of 174 arrests were made, of which 67 were for illegal mining.
According to Captain Raymond Sebonyane, spokesperson for the West Rand District Police, 64 of the 67 illegal miners were caught underground in shaft four of the Blyvooruitzicht Mine.
Other suspects were arrested for being in possession of unlicensed firearms and ammunition, dealing in dagga, being in possession of dangerous weapons, being undocumented, dealing in liquor without a licence, interfering with police while executing their official duties, failing to confine to residence as well as selling cigarettes illegally in terms of the Disaster Management Act 57 of 2002 regulations.
He added that two men aged 28 and 31 were also arrested in an open veld next to Shaft 10 of the West Driefontein Mine in Carletonville for being in possession of unlicensed firearms and ammunition.
"The men were found in possession of one AK-47 rifle, one AK-47 magazine, three AK-47 rounds of ammunition, one shotgun, 27 shotgun rounds of ammunition, six 375MGH rounds of ammunition, one VZOR 7.65 pistol, two 9.32×62 rounds of ammunition, six 3.8 SPL rounds of ammunition and 10 FC470NE rounds of ammunition."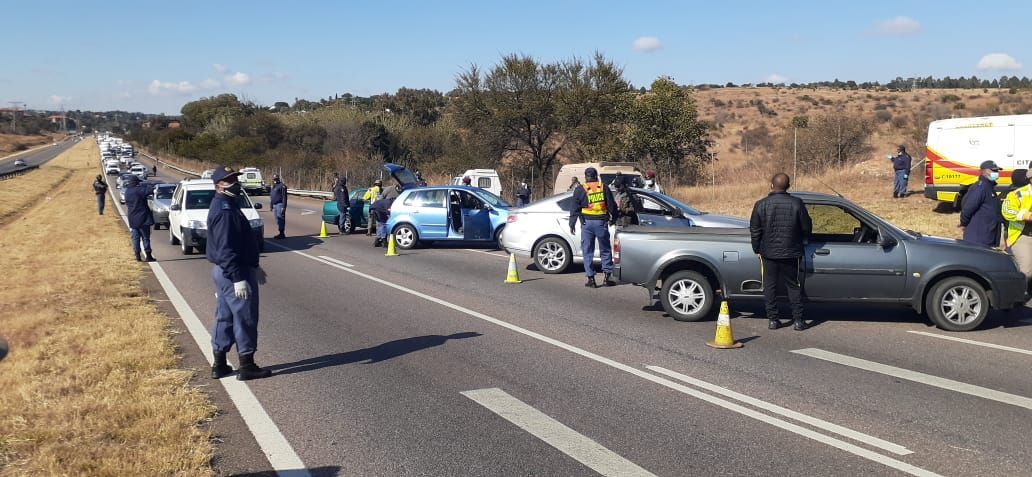 This was a massive joint integrated operation held by police, SANDF, Home Affairs, traffic police and more. Photo submitted.
In addition, Captain Sebonyane said, a total of 2 295 people and 1 060 vehicles were stopped and searched in the two roadblocks that were conducted on the main roads. More than 51 fines to the value of R45 100 were issued, among them for expired food and disobeying the Road Traffic Act 93 of 1996.
"While the detectives were tracing suspects, others were arrested for various crimes including house robbery, armed robbery, business burglary, assault with intent to cause grievous bodily harm, common assault, fraud, malicious damage to property, theft, possession of drugs, possession of unlicensed firearm, pointing of firearm, contempt of court, resisting arrest and drunken driving."
All arrested suspects are expected to appear in the Carletonville and Khutsong Magistrates' Courts soon.
The operation was held between 7am and 3pm. The police were led by Major General Fred Kekana, the West Rand District Police commissioner, and members from the Visible Police, Detectives, Crime Intelligence, the Merafong Traffic Police, Gauteng Traffic Police, Home Affairs, Sibanye Gold Mine Security, West Rand Environmental Health, Brand Management, the Department of Correctional Services, the South African National Defence Force (SANDF) and both the MMC for Local Economic Development and the Executive Manager of Merafong Municipality joined forces.