MOSSELBAAI NUUS - Veiligheidswerkers, verpleegkundiges en dokters op Mosselbaai is, nes hulle kollegas wêreldwyd, is tans in die voorste linie in die stryd teen Covid-19.
Daar is talle berigte oor dokters en verpleërs wat susters wat daagliks tot 12 uur lank op 'n slag en ten volle geklee in beskermende drag na Covid-19-pasiënte om te sien, maar hoe voel dit om een van daardie pasiënte te wees?
'n Inwoner van Groot-Brakrivier, Laurianne Botha is verlede week in die Covid-19-eenheid van die Life Bay View privaat hospitaal behandel nadat sy positief vir die virus getoets het.
Laurianne het 'n dag nadat sy haar uitslae ontvang het, asemnood ontwikkel. Op Sondag, 19 Julie het sy wakker geword en tam gevoel. "Ek was verskriklik moeg en het nie eens kans gesien om my seun met sy 20ste verjaarsdag geluk te wens nie. Dit het gevoel of ek geen krag in my liggaam oorgehad het nie. Ek was van energie gestroop." Sy het vir 'n Covid-19-toets by die George Medi Clinic gegaan en het dieselfde dag haar uitslag ontvang.
Trauma
Laurianne is met Covid-19 gediagnoseer. Die nuus het haar hartseer laat voel. "Ek het nie geweet hoe om dit te hanteer nie. My kinders en familie was ewe getraumatiseer toe hulle die nuus ontvang. My 10-jarige seun het op die bed gesit en huil."
'n Opvoedkundige sielkundige, dr Lynette Kruger sê sielkundige noodhulp is dikwels nodig vir mense wat met Covid-19 gediagnoseer word.
Volgens haar is trauma 'n emosionele toestand en 'n reaksie weens die ervaring van vrees, magteloosheid en hulpeloosheid. "Trauma verander denkpatrone en emosionele reaksies in mense. Die Covid-19-pandemie veroorsaak 'n universele vrees vir siekte, pyn en dood. Dit volg na blootstelling aan sielkundige en sosiale stressors waar die persoon 'n ontwrigting van lewensroetines, gevoel van wanorde, abnormale hanteringstrategieë en die tekort aan ondersteuningsisteme kan beleef."
Asemnood
Ten spyte van haar eie vrese, het Laurianne sê sy het haar kind probeer gerusstel. Sy het kortasem begin voel.
"Die asemnood is onbeskryflik. Ek kon slegs kort entjies stap. As ek wel beweeg het, het dit gevoel of ek nie kon asemhaal nie."
Op Maandag, 20 Julie het sy erg met asemnood gesukkel. Sy het self die ambulans gebel. "My kinders het gesien toe die nooddienspersoneel my in die ambulans laai en hulle het onophoudelik gehuil."
Sy is in die Covid-19-saal van die Life Bay View privaat hospitaal opgeneem. "Niemand sal weet hoe dit is tot jy nie self daar was nie. Ek het gevrees vir my lewe en dat ek dalk nie weer by die hospitaal sal uitstap nie. Ek kon skaars badkamer toe loop en het gevoel ek versmoor. My asem was kort en ek wou moed opgee. Ek het elke keer hygend gaan sit en was later bang om te probeer asemhaal."

Saluut
"Die susters in die saal het my met liefde behandel. Hulle het onophoudelik gewerk en het nie tyd om te sit of om iets te eet nie. Hulle was liefdevol en simpatiek teenoor die ander pasiënte en ek het gevoel of ek in goeie hande is. Ek salueer die veiligheidswerkers wat in die eerste linie tydens die pandemie werk.

"'n Dag nadat ek opgeneem is, is 'n vrou in die Covid-19 saal opgeneem. Sy het in die hospitaalbed oorkant myne gelê. Sy het geveg om haar lewe en is dadelik aan 'n ventilator gekoppel. Ons familie kon ons nie in die saal besoek nie. Dit is bitter alleen sonder familie, maar die susters het hulle oor ons ontferm."
Laurianne het suurstofbehandeling en fisioterapie ontvang en haar toestand het stelselmatig verbeter.
Op Woensdag, 22 Julie het sy die nuus ontvang dat beide haar seuns ook positief getoets het. "Ek was steeds in die hospitaal en was emosioneel oor die uitslag. Ek wou net by my kinders wees, maar kon nie. Ek was bekommerd oor hulle."

Sy is op Saterdag, 25 Julie ontslaan."Voor ek die hospitaal verlaat het, is 'n pasiënt wat saam met my behandel is aan Covid-19 verwante oorsake dood. Ek is dankbaar om nou in isolasie saam met my seuns te wees. Ek is dankbaar vir my lewe en dat ek uit die hospitaal kon stap. Mense moet hulle gesigmaskers dra en die virus ernstig opneem. Die virus maak jou nederig. Dit kan met enigeen gebeur. Ook met jou."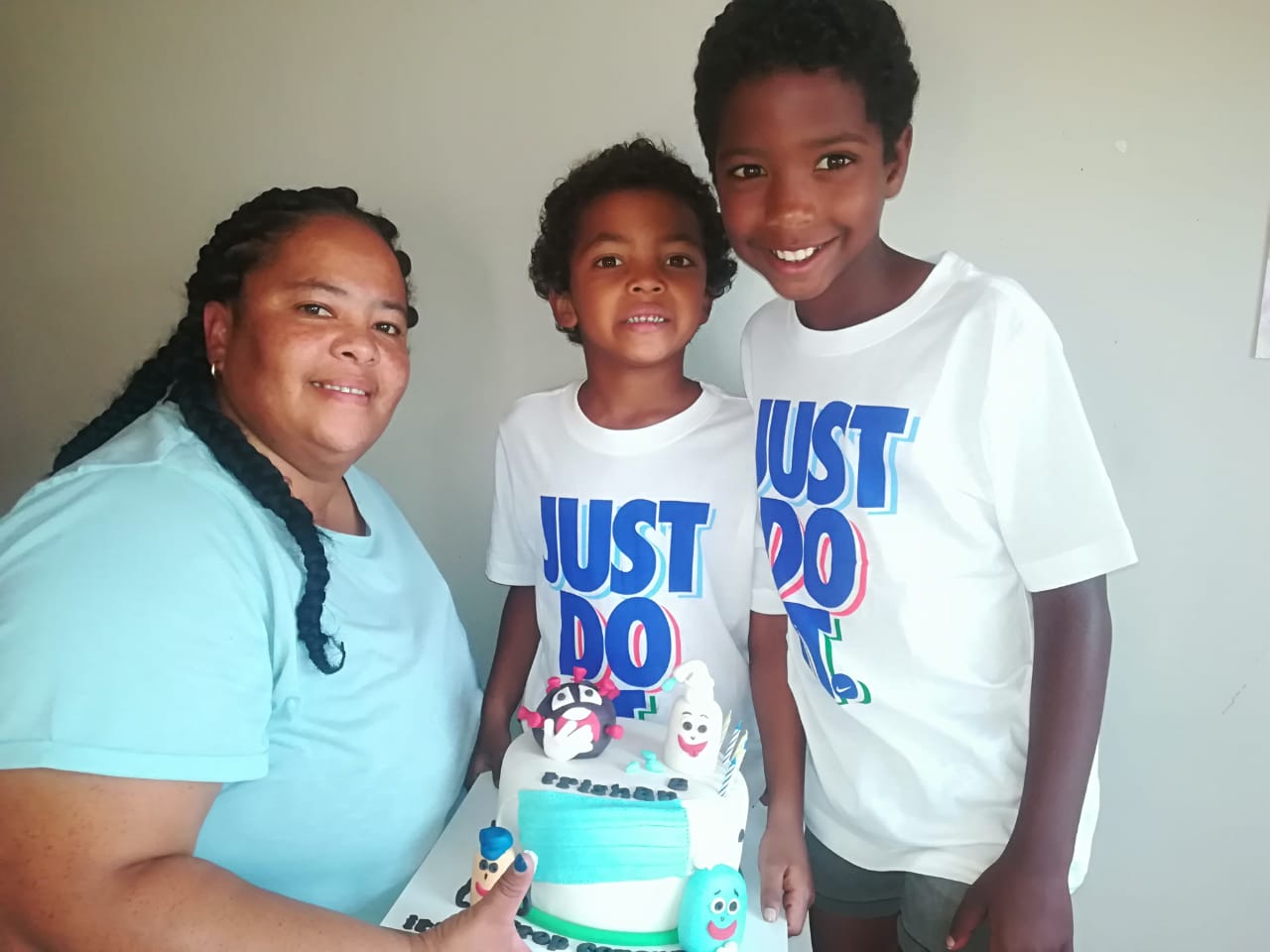 Laurianne Botha saam met haar seuns wie ook positief getoets het vir Covid-19. Die kinders het geen simptome van die virus getoon nie en is tans saam met hulle ma in isolasie.
Dear reader, As your local news provider, we have the duty of keeping you factually informed on Covid-19 developments. As you may have noticed, mis- and disinformation (also known as "fake news") is circulating online. Group Editors (publications and online platforms) is determined to filter through the masses of information doing the rounds and to separate truth from untruth in order to keep you adequately informed. Local newsrooms follow a strict pre-publication fact-checking protocol. A national task team has been established to assist in bringing you credible news reports on Covid-19.
'Ons bring jou die nuutste Mosselbaai, Tuinroete nuus'