Update
MOSSELBAAI NUUS - Twee briewe, 'n selfoon en 'n beursie. Dít is wat 'n vermiste inwoner van Island View, Julius Verhoog (68) by sy woning gelos het kort nadat hy op 28 Februarie vermis geraak het.
Julius is laas in 'n grys Citroen met registrasienommer CBS 52389 gesien en is sedertdien vermis.
Sy vrou, met wie hy die afgelope week 47 jaar getroud was, Hantie Verhoog, sê op die betrokke oggend was hy in die stort, toe sy hom gegroet het om 'n afspraak by 'n skoonheidsalon na te kom.
Sedertdien was daar nog geen tyding van waar hy homself bevind nie.
Julius het wel 'n brief aan Hantie gelos waarin hy vir haar sê om met haar lewe aan te gaan. Hy het ook 'n brief vir hulle drie kinders gelos. Sy identiteitsdokument en bestuurslisensie, wat altyd in sy beursie is, is egter soek.
Hantie het die afgelope week aan die Mossel Bay Advertiser gesê, sy kan nie net met haar lewe aangaan, as sy nie weet wat van haar man geword het nie.
"Ons soek afsluiting. Dit is verskriklik om nie te weet waar hy is en of hy nog leef nie."
Die egpaar het in 2018 na Mosselbaai getrek nadat hulle vir etlike jare in Roodepoort gewoon en toe na Pretoria verhuis het waar Julius by Mercedes Benz as tegniese ingenieur gewerk het.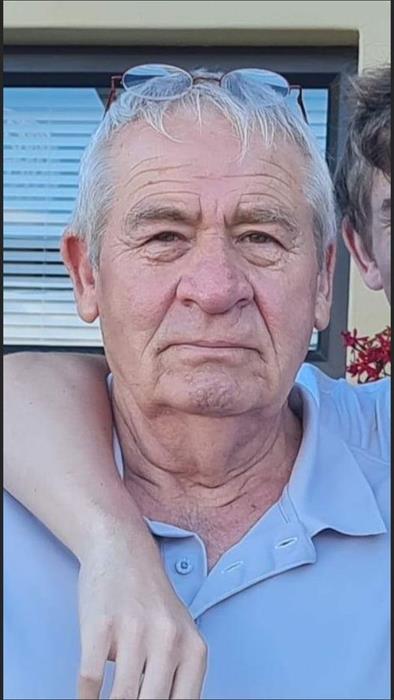 Hantie Verhoog met die brief wat Julius vir haar gelos het. In haar hand hou sy ook Julius se gunsteling horlosie vas. Foto: Jannie du Plessis
Depressief
Hantie sê haar man was die afgelope ruk erg depressief. "Ek het baie met hom probeer praat oor wat fout is, maar hy wou nie met my praat nie. Ek het baie vrae gehad."
Sy sê sedert Julius vermis is, was daar nog geen teken van sy bewegings nie. "Daar was nog geen aktiwiteit op sy bankkaarte nie, geen brandstof is ingegooi nie, niks."
Die polisie het bevestig dat hulle gerugte ontvang het dat mense hom op Knysna gesien het, maar 'n ondersoek daar het niks opgelewer nie.
Gerugte dat hy dalk by Port Alfred gesien is, is ook ondersoek maar het niks opgelewer nie.
Intussen het die polisie 'n plaaslike helikoptervlieënier gevra om onbegaanbare areas dop te hou vir enige teken van Julius of sy voertuig.
Hantie sê toe sy van haar afspraak terugkeer en op die briewe afkom, het sy dadelik na die Da Gamaskop-polisie gegaan.
"Julius het altyd as hy my wakker maak soggens vir my gesê: 'Ek het jou lief, die kinders het jou lief en Jesus het jou lief.' Hoe kan ons nou net aangaan sonder om te weet wat met hom gebeur het?
"Ek wens net God wil hom vir my terugstuur, dat ons net afsluiting kan kry."
Enigeen met inligting word versoek om die ondersoekbeampte in die saak, kapt Carl Cornelius te kontak (079 879 9003).
Hantie en Julius Verhoog.
Julius Verhoog is laas in die grys Citroen (links) gesien.
Geestesgesondheid-hulplyn 0800 456 789 (24 uur) 0800 21 22 23 / 0800 70 80 90 (08:00 - 20:00).
Vorige artikel: Have you seen this man?
'Ons bring jou die nuutste Mosselbaai, Tuinroete nuus'