Update
MOSSELBAAI NUUS - 'n Inwoner op Mosselbaai, Rikus Raath (21) is op Saterdag, 5 Junie helderoordag met 'n skerp voorwerp by die verkeerslig op Louis Fourieweg doodgesteek toe hy melk by die Total-vulstasie, skaars 200m van sy woning by The Lofts gekoop het. Nét sy selfoon is tydens die voorval gesteel.
Rikus is die soveelste slagoffer wat in hierdie gedeelte van Louis Fourieweg naby Diasstrand aangeval is.
Die Mossel Bay Advertiser het al verskeie kere oor rooftogte in dié omgewing berig. Slagoffers sluit in voetgangers wat van hul besittings beroof word asook fietsryers en drawwers wat langs die besige pad aangeval word. Toeriste en vakansiegangers het ook al deurgeloop.
Hoewel daar op die strand duskant die Diaz Strand-hotel 'n reuse-kennisgewing opgerig is met die woorde, Be aware, crime hotspot, blyk dit van min waarde te wees.
Enigste seun
Rikus is op die toneel dood. Die melk wat hy pas gekoop het, het nog in die pad gelê.
Da Gamaskop-buurtwaglede, Hannelie Marais en Philip Mattheus was kort nadat die twee verdagtes om 17:00 weggehardloop het, op die toneel.
Mattheus sê hulle het besef Rikus is iemand se kind en het van deur tot deur na Rikus se ouers begin soek. By The Lofts het hulle aan nog 'n deur geklop en dit was per toeval Rian Raath (48), 'n rekenmeester op Mosselbaai, en pa van Rikus, wat die deur oopgemaak het. Rian was toe reeds rasend van bekommernis omdat hy Rikus se selfoon gebel het, maar dit af was.
Rian het die afgelope week aan die Advertiser gesê hy het die nuus eers nie geglo nie, maar Mattheus het Rikus se identiteitsdokument by hom gehad en dit aan Rian gewys. Rian sê hy en Rikus se ma, Carin van der Merwe (49) se harte is stukkend. Rikus was hulle enigste seun en het by Rian op Mosselbaai gewoon. Carin woon in die Kaap en Rikus het juis planne gehad om eersdaags by haar aan te sluit in die hoop om daar werk as wildbewaarder te kry.
'Lief vir diere'
"Hy was baie lief vir diere. Hy was 'n sagte kind en het mense maklik vertrou," sê Rian.
Hy sê hulle voel kwaad.
"Mosselbaai is veronderstel om 'n veilige dorp te wees. Ons was onder die indruk dat Mosselbaai relatief veilig is. Vanaf ons woning kan ons sien hoe mense daagliks langs Louis Fourieweg draf en stap.
"Mens dink dis veilig maar dit is duidelik nie.
"Nadat Carin Rikus se lyk uitgeken het, het ons teruggery na my huis en drie kinders by dieselfde verkeerslig waar Rikus vermoor is gesien.
"Enigiets kan dus met hulle ook gebeur. Selfs kort nadat hy vermoor is, het 'n paartjie met hulle hond langs die pad gestap."
The Lofts. Rikus het hier gewoon en is skaars 200m van sy huis vermoor.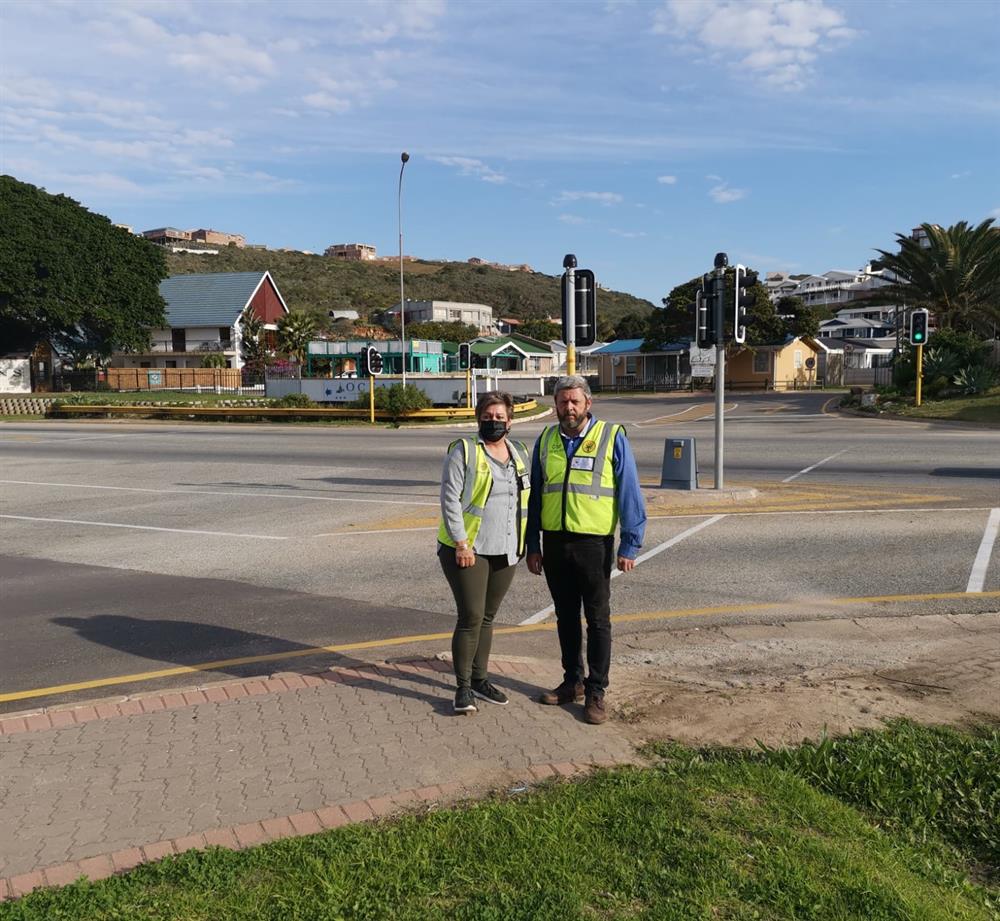 Hannelie Marais en Philip Mattheus van die Da Gamaskop-buurtwag. Agter hulle is die plek waar Rikus Raath vermoor is.
Carin van der Merwe en Rikus.
Vorige artikels:
'Ons bring jou die nuutste Mosselbaai, Tuinroete nuus'