KLEIN BRAKRIVIER NUUS - Na 'n inwoner van Klein-Brakrivier gekla het dat bosslapers by die strandgebied oornag, het Mossel Bay Advertiser saam met Wyk 4-raadslid, Annatjie Janse van Rensburg, wykskomiteelid Pieter le Roux, Midbrak-buurtwag se Jacques Radley, raadslid Anton Dellemijn, die volgende dag, Saterdag, 13 Junie, dié area besoek.
"Die terrein was baie skoon en geen bosslapers is in die omgewing gevind nie," het Van Rensburg later op Facebook gesê.
Ou bottels en 'n bietjie vullis wat voor grendeltyd daar gestrooi is, was wel sigbaar. "Daar was geen tekens van bosslapers wat oorslaap in die omgewing van die publieke toilette nie," het Van Rensburg gesê.
Volgens Radley het hulle, die Midbrak-buurtwag sowel as die polisie, Vrydag laatnag die area twee keer besoek en kon hulle geen teken van bosslapers kry nie.
Daar is wel twee of drie manne wat by tye in die omgewing opgemerk word en, luidens die spesifieke inwoner, kom hulle met niks daar aan nie en stap dan later met sakke vol goed weg.
Die probleem word egter voor die deur inwoners gelê wat die rondlopers jammer kry en kos, klere of geld uitdeel.
'n Beroep word op inwoners van die hele Midbrak gedoen om glad nie iets aan die mense te gee nie, aangesien dit tot 'n toeloop van bedelaars kan lei.
"Daar is ander kanale in plek om vir die hawelose rondslapers hulp te verleen en uit die woongebiede te hou," sê Dellemijn.
"Ons het almal so om en by 12:00 na die klaagster se woning gegaan om met haar 'n gesprek te voer oor haar klagte, maar is meegedeel dat die klaagster stort," sê Van Rensburg. Van Rensburg sien aantygings op sosiale media dat raadslede nie hulle werk doen nie, in 'n baie ernstige lig. Hulle versoek dat probleme wat in die omgewing ondervind word, soos die stormwatermasjien wat nou 'n geruime tyd by die strandgebied staan, direk onder hulle aandag gebring word.
Die masjien was egter in voorbereiding op moontlike stormweer op bystand daar geplaas om die stormwaterpype oop te maak indien dit nodig sou wees.
Die kostes om sulke masjiene heen en weer te skuif is baie hoog en hulle was genoodsaak om dit daar te laat indien dit dringend benodig word.
"Ons is nog in grendeltyd en die ablusie-gebou is gesluit," sê Van Rensburg. Die moontlikheid is dat dié geriewe eers tydens vlak 1 oopgestel sal word.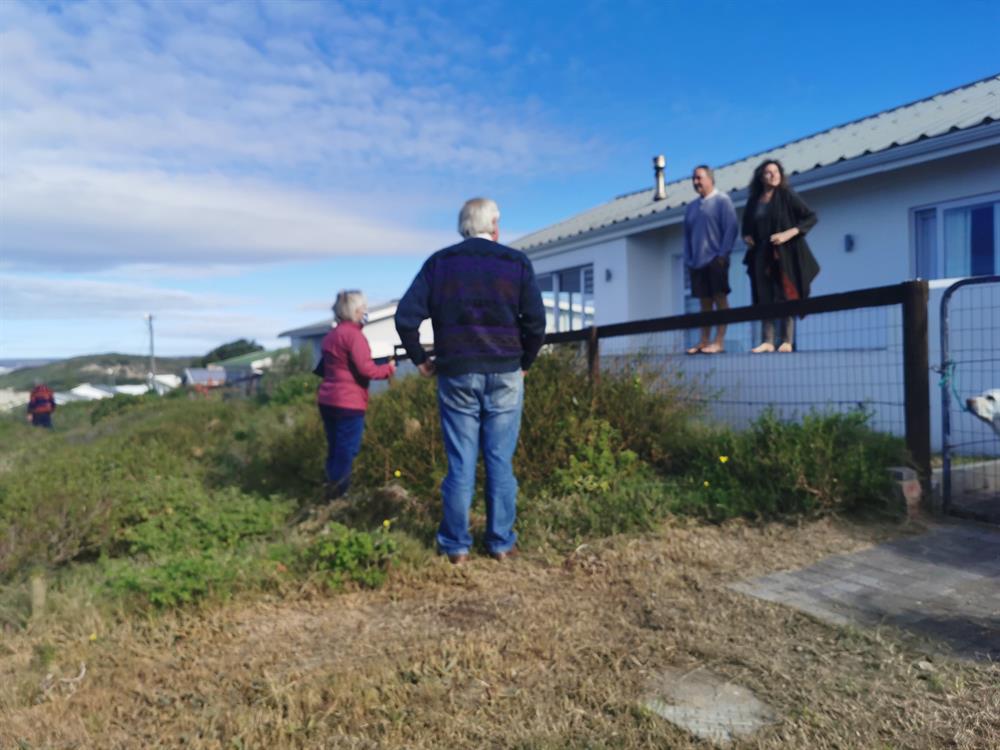 Inwoners is gevra om nie kos, klere of geld aan rondlopers te gee nie en liewers deur amptelike kanale te help. Foto: Jannie du Plessis
'Ons bring jou die nuutste Klein Brakrivier, Tuinroete nuus'