Video
MOSSELBAAI NUUS EN VIDEO - Plaaslike kajak-entoesiaste het sedert die nasionale inperking 'n stryd gevoer om hulle sport te kan geniet. Toe die vlak 3-inpekring aangekondig is, het hulle dadelik 'n plan begin maak om weer die blou waters te troef.
Twee lede van die Mosselbaai-kajakklub het op 1 Junie om ongeveer 06:00, toe dit nog donker was die seewater binnegevaar en eers weer skemertyd net na 19:00 teruggekeer.
Dié twee kajakkers het die polisie egter ontduik en die polisie het toe die Mosselbaai-boot en -seiljagklub se personeel aangevat oor die twee manne wat op die see uitgegaan het. Op Woensdag, 3 Junie was die kajakkers weer uit op die see en die polisie het weer op hulle toegeslaan. 'n Woordestryd het ontstaan oor die inperkingsreëls en -regulasies en veral die interpretasie daarvan. Die kajakkers is gedreig met arrestasie, konfiskering van hul kajakke, boetes van R5 000 ensomeer. Daar was selfs dreigemente teenoor die boot- en seiljagklub en dat die klub en sleephelling gesluit sou word.
Volgens die kajakkers is dit alles belaglik. "Gesien in die lig van Covid-19 se aansteeklikheid, wanneer ons kayak is ons 10 of meer meter van mekaar af op die water," meen een van die kajakkers.
Op Vrydag, 5 Junie het die teenstrydige argumente 'n hoogtepunt bereik. Laat Vrydagaand het die nuwe regulasies in die Staatskoerant verskyn. Saterdagoggend was daar net 'n polisievoertuig wat vinnig 'n draai gemaak het op die terrein vanwaar die kajakkers geloods het, sonder enige konfrontasie.
Volgens Lennis van Schalkwyk, wat reeds 10 jaar op die see uitgaan, is dit 'n sportsoort wat eindelose genot gee aan die deelnemers. "Ons sien sonsopkoms en sonsondergang, walvisse, dolfyne, haaie, skole visse en soveel ander seeverskynsels. Om naby een van die passasierskepe te roei laat mens net weer dink hoe klein ons werklik is," verduidelik Van Schalkwyk aan die Mossel Bay Advertsier. "Elke keer op die see met 'n kajak is 'n nuwe ervaring en sien ons Mosselbaai en omgewing vanuit 'n ander hoek."
Van Schalkwyk sê Saterdag was 'n show of force met meer kajakke op die water as wat hy nóg gesien het. Daar was volgens hom ook goedgesinde polisiemanne en baie belangstellendes in dié sport. Phillip Albertyn, 'n amputee wat ook aan die klub behoort het aan die Advertiser gesê hy kan nie draf nie en die kajak roei bied hom die geleentheid om 'n sport te kan beoefen.
Kyk 'n video hieronder: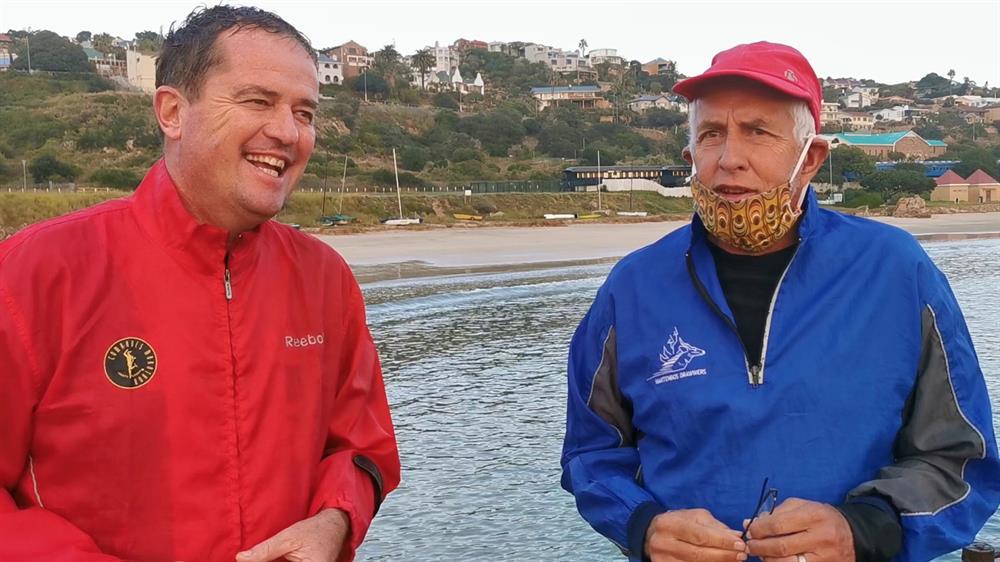 Phillip Albertyn en Lennis van Schalkwyk is albei toegewyde kajakkers. Foto: Jannie du Plessis
'Ons bring jou die nuutste Mosselbaai, Tuinroete nuus'