GARDEN ROUTE DISTRICT NEWS - Garden Route District Municipality (GRDM) earlier today issued a statement announcing the second death of one of their employees due to Covid-19.
Lemos Soko (47) was described as "a gentle giant who was always willing to go the extra mile". Soko passed away on 6 August after battling with Covid-19 in ICU for two weeks. He had worked at the GRDM Roads Department since 16 April 1998.
Employees gathered via Zoom today, 7 August, to recollect the fond memories held of Lemos and the impact he had on the institution throughout his 22-year employ. During the meeting, Memory Booysen (Executive Mayor for GRDM), Monde Stratu (Municipal Manager), John Daniels (Executive Manager for Roads Services), Japie Strydom (Manager: Construction and Mechanical Services) and Gert Verwey (Deputy Manager: Operations) shared their fond memories of him. "He was a gentle giant and always willing to go the extra mile," are some of Lemos' key personality traits that GRDM's representatives shared.
Lemos spent his first few years at GRDM working as part of the Harold construction team. Over the past few years he worked alongside a maintenance team in the Friemersheim area. In describing his skills and work ethic, Daniels said, "he was one of the few employees who could operate every roads machine," and "he went out of his way to ensure that the team's daily tasks were completed, even though some of these tasks were not his responsibility".
Simon Mankonkwana, a colleague and bestfriend of Lemos, described his passing as a huge loss and a void in his life. Lemos leaves behind his wife, four children and five grandchildren.
Booysen shared his condolences and a message of support to everyone present on behalf of Council by saying: "We tend to run out of words during times like these, especially in light of the fact that we are not only loosing colleagues and friends, but also family members. Although we are a big family at the GRDM, we are going to be broken for a long time," he said.
He also encouraged employees to try their best to rise above the fear currently experienced, although it is natural to feel scared of such a dreadful disease and its effects on society.
Booysen added that the GRDM would walk the walk with Lemos' family and offer its undivided emotional and spiritual support.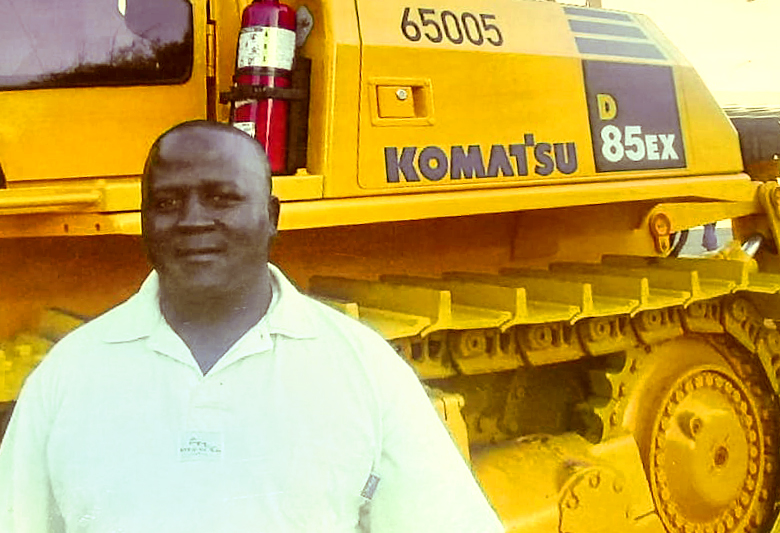 At work in front of one of the many roads machines he could operate.
'We bring you the latest Garden Route, Hessequa, Karoo news'