MOSSEL BAY NEWS - Local wildlife photographer and resident of Aalwyndal, Fiona Ayerst, has expressed grave concern about the roadkill in her area.
The Mossel Bay Municipality this week also released a statement, urging residents to preserve and maintain the nature by for instance refraining from speeding on roads frequented by wild animals.
"Perhaps emboldened by the quietness of the streets during the lockdown and enjoying the spring lushness after the soaking rains, the wild residents of Aalwyndal have come out to play," notes Ayerst.
She says that historically, Aalwyndal was zoned for smallholdings.
"There is only one main loop road heading in and out. Aalwyndal road and traffic signage warns of the 60km/h speed limit. There is a school and an airstrip in Aalwyndal, but otherwise it has a countryside feel."
As a buffer between the town and the wild spaces, Ayerst says Aalwyndal is home to a variety of wild animals. "Here one finds aardwolf, caracal, tortoises, owls, mongooses, snakes, buck and hares, and many others. Barn owls live in the roof of my house. Last night I could hear porcupines performing a mating ritual in the bush near my home," Ayerst explains.
"If you visit this neighbourhood, please consider leaving five minutes earlier so that you don't have to rush. Please, travel slowly to give the wilderness a chance to survive and perhaps, even to thrive."
Reported
In its statement, the Mossel Bay Municipality notes it too has received reports of wild animals being killed in residential areas by motorists.
"While it is alarming that motorists who crash into wildlife do not necessarily stop to determine whether the animal is alive or in need of medical care, it should be noted that motorists are not legally obligated to. The law (NPW 93/1996, section 51 (5)) states that motorists must stop in the event of an accident with an animal, but then lists the animals to which the law refers as being cattle, horses, donkeys, mules, sheep, goats, pigs, ostriches and dogs. There is no mention made in the legislation of wild buck or cats."
Mossel Bay Municipality acts per the National Road Traffic Act when doing law enforcement on the roads.
"The municipality, from time to time, receives requests for speed calming measures, including speed humps in areas, yet cannot provide these without the proper research into traffic volumes, actual high-speed occurrences, and traffic density, among others. Apart from the costs involved, speed humps cannot necessarily be justified, should the results of the legally prescribed research not support an application."
Speed limits are set nationally by the Council for Scientific and Industrial Research and cannot unilaterally be changed.
Neighbourhood watch members and conservation bodies are not in a position to regulate or enforce speed limits, other than the approved speed limit in a residential area. "
There are currently no residential areas in Mossel Bay where the 60km/h speed limit does not apply. According to the Road Traffic Act, the speed limit may only be altered should conditions for pedestrians or cyclists pose a continuous danger due to the volume of traffic."
Mossel Bay Municipality has law enforcement and traffic officers on duty 24 hours a day.
"Although they have to cover a particularly large area, the officers are continuously patrolling in residential areas to ensure compliance with the law."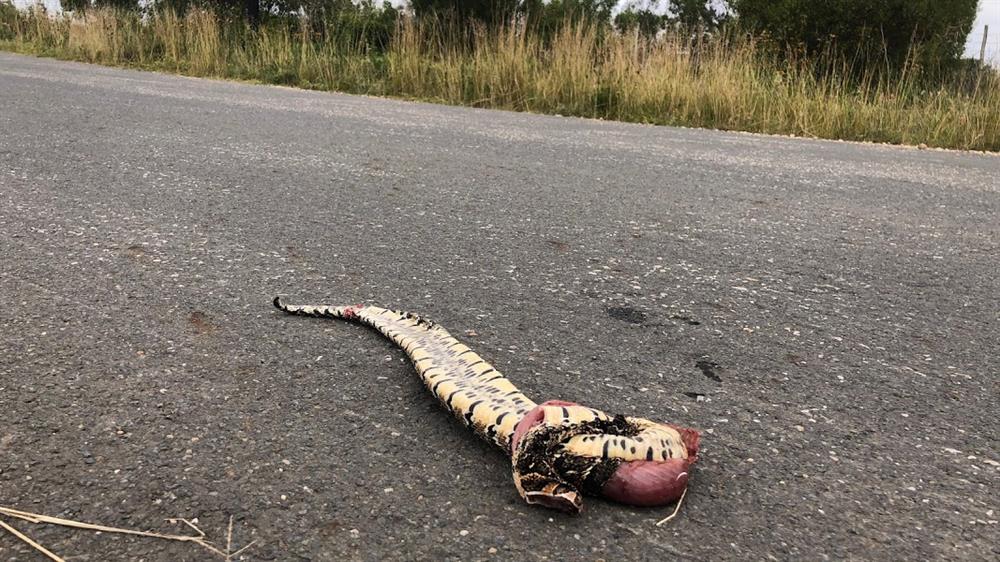 A puffadder, which was ridden over. Photo: Fiona Ayerst
'We bring you the latest Mossel Bay, Garden Route news'