MOSSELBAAI NUUS - Te midde van groot verwarring rondom skole se heropening op die eerste dag van vlak-3 tydens die nasionale inperking in Suid-Afrika, was skole op Mosselbaai Maandag, 1 Junie oorwegend slaggereed om graad 7- en graad 12-leerders te ontvang.
Maar, die sorgvrye dae waar leerders kon saamdrom en gesels-gesels by die skool kon aankom, is vir eers verby.
"Welkom na die nuwe normaal." Só het 'n onderwyser met 'n gesigmasker, leerders by die ingangshek van die Groot-Brakrivier Sekondêre Skool begroet.
Matrieks, sigbaar gespanne het stil-stil, een vir een by die skoolbus uitgeklim en op hulle staanplekke, 1,5m uitmekaar, vir skool aangemeld.
Sommige leerders het mekaar nie met die gesigmaskers herken nie. Onderwysers moes bontstaan om eers elke leerder deur 'n vraelys te neem. Die vrae het ingesluit of hulle in kontak was met 'n persoon met Covid-19. Daar is ook gevra of hulle lighoofdig voel of 'n droe hoes het. Daarna is leerders se temperatuur geneem.
Op Groot Brak het die temperatuurmeter aanvanklik nie saamgewerk nie en onderwysers was genoop om eers inderhaas 'n ander een te kry.
Honger om te leer
'n Leerder van Hoërskool Sao Bras het buite die skool vroeg op Maandagoggend aan Cornelle Carstens van die Mossel Bay Advertiser gesê hy is bly om terug by die skool te wees. Die leerder woon op Brandwag en ry daagliks met 'n taxi skool toe. "Ons hande word by die taxi ontsmet en jy mag nie by die taxi inklim as jy nie 'n gesigmasker dra nie." Dié matriekseun het gesê hy het geen skoolwerk tydens die eerste twee vlakke van inperking gedoen nie, omdat hulle nie oor internet by die huis beskik nie, en hy ook nie 'n selfoon nie.
Skoolhoof, David Groenewald het aan die Advertiser gesê hulle beplan 'n tweedag-oriëntering waartydens leerders ingelig sal word oor die Covid-19-virus. "Dit is belangrik dat ouers ook hulle kinders sal opvoed. Ons sal van die skool se kant af ons beste probeer om die kinders so veilig as moontlik te hou."
Groenewald sê daar gaan uit die aard van die saak druk wees op die leerders om die skoolwerk in te haal wat hulle gemis het. Groenewald het ook gesê dat hulle die matrieks se emosionele welstand sal monitor en planne in plek het om enige probleme aan te spreek.
Nuwe normaal
'n Ouer van 'n matriekleerder Chrisandra Hendriks, het haar dogter by die skool afgesien, en sê hulle hoop en bid dat die leerders hulle matriek sal slaag. "My kind wil graag gaan leer volgende jaar, en daar is nou baie uitdagings." Hendriks werk voltyds en is bly haar kind kan weer met skool begin.
Laerskoolleerders sowel as onderwysers was ewe entoesiasties om die kwartaal af te skop. Onderwysers van Laerskool Hartenbos het aan Jannie du Plessis van die Advertiser gesê hulle is bly om terug te wees by die skool. Skoolhoof, Werner van Huyssteen het vir elke leerder twee gesigmaskers gegee en sê daar word voortaan toesig op speelterreine gehou om seker te maak dat kinders sosiale afstand behou. Die klasse is ook verdeel sodat daar minder leerders per klas is. Ook by Diaz Primêre Skool is die graad 7's in kleiner klasgroepe verdeel. Die skoolhoof, Génevieve Muller het gesê dat die skool goed voorbereid is en voornemens is om die graad 7's deeglik oor die virus te oriënteer.
Linda Sparg van die Advertiser berig dat dié nuwe wyse van onderrig beslis iets sal wees waaraan leerders en onderwysers gewoond moet raak. Sparg het Hoërskool Punt besoek en sê die skoolterrein het vreemd gelyk, met matrieks wat 1,5 meter uitmekaar staan, en sommige van hulle wat oudergewoonte met mekaar probeer gesprekke voer.
Sparg berig dat dit beslis iets anders is as waaraan leerders in die verlede gewoond was.
Watch video's below:
Leerders by Milkwood Primêr Skool se hande word eers ontsmet voordat hulle met die skooldag begin. Leerders was stil tydens die siftingsproses. Foto: Linda Sparg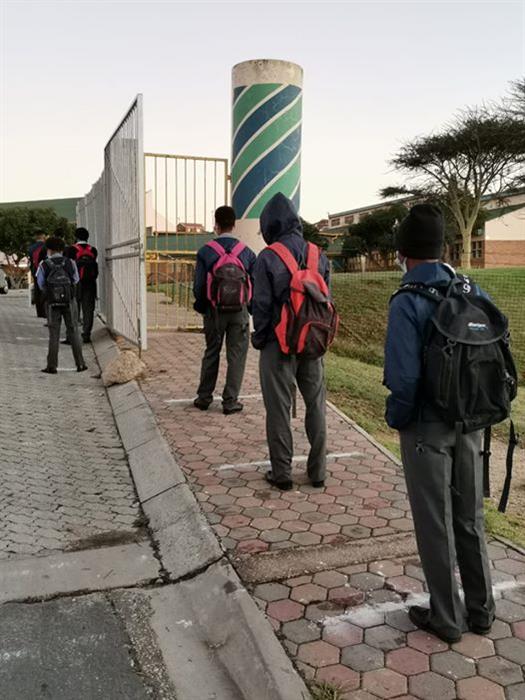 Leerders van die Groot Brakrivier Sekondêre Skool staan op merke op die plaveisel wat die sosiale afstand wat gehandhaaf moet word aandui.

Dear reader, As your local news provider, we have the duty of keeping you factually informed on Covid-19 developments. As you may have noticed, mis- and disinformation (also known as "fake news") is circulating online. Group Editors (publications and online platforms) is determined to filter through the masses of information doing the rounds and to separate truth from untruth in order to keep you adequately informed. Local newsrooms follow a strict pre-publication fact-checking protocol. A national task team has been established to assist in bringing you credible news reports on Covid-19.
'Ons bring jou die nuutste Mosselbaai, Tuinroete nuus'