WESTERN CAPE NEWS - During my weekly digital press conference today, I confirmed that the Western Cape is experiencing a resurgence in Covid-19 cases.
A resurgence is noted when the number of infections increase by 20% over a 7-day period.
The Western Cape has recorded 170 new diagnoses each day and there has been a 39% week on week increase. Our reproductive number is above one, which also is evidence of this growth.
In the Metro:
Most sub-districts are showing an increase in cases, although the absolute numbers involved vary.
With the public holiday 7 to 14 days ago, we are expecting to see an increase in cases week on week, as we are comparing a week of 5 full days of testing to a week of only 4 days. But the increases seen now are larger than expected.
An increase in private sector cases in Northern, Eastern and Western is being noted.
In the rural communities:
Cases numbers in rural are also starting to increase.
Cape Winelands, Garden Route and West Coast in particular are seeing an increase in cases.
This resurgence is not yet a 'Third Wave" but the first sign of a surge of cases that could be expected in coming weeks.
We still have an opportunity to slow this spread down and reduce the number of infections by taking the necessary safety precautions. The power is still in our hands.
We need to urgently:
Avoid crowds
Avoid confined spaces
Avoid close contact
Wear a mask
Sanitize or wash our hands with soap and water often
Get tested as soon as we start with symptoms, and ensure immediate quarantine
Ensure ventilation in all venues, including on public transport
Look out for those who are at high risk of severe Covid-19 illness and death
This resurgence is also an urgent reminder that we must get as many people over the age of 60 registered for their Covid-19 vaccine.
To register, please visit www.westerncape.gov.za and click on the link.
You can also:
Dial *134*832# and follow the prompts (FREE on all South African Networks)
Whatsapp the word REGISTER to 0600 123456
We have all been through so much already, and we are now so much closer to the mass vaccination programme in our province. We need one last push from you all, so that we flatten the curve, get closer to the vaccine roll-out, and save lives.
Update on the coronavirus and vaccines
As of 13:00 on 13 May, the Western Cape has 2 560 active Covid-19 infections, with a total of 289 188 people having been infected with Covid-19 to date and 274 938 recoveries.
A total of 84 092 vaccines received to date as part of the Sisonke trial have been administered by 5pm on 12 May 2021.

The Western Cape has recorded 5 additional deaths since our last daily update on Wednesday, 12 May, bringing the total number of Covid-19 related deaths in the province to 11 690. We send our condolences to their loved ones at this time.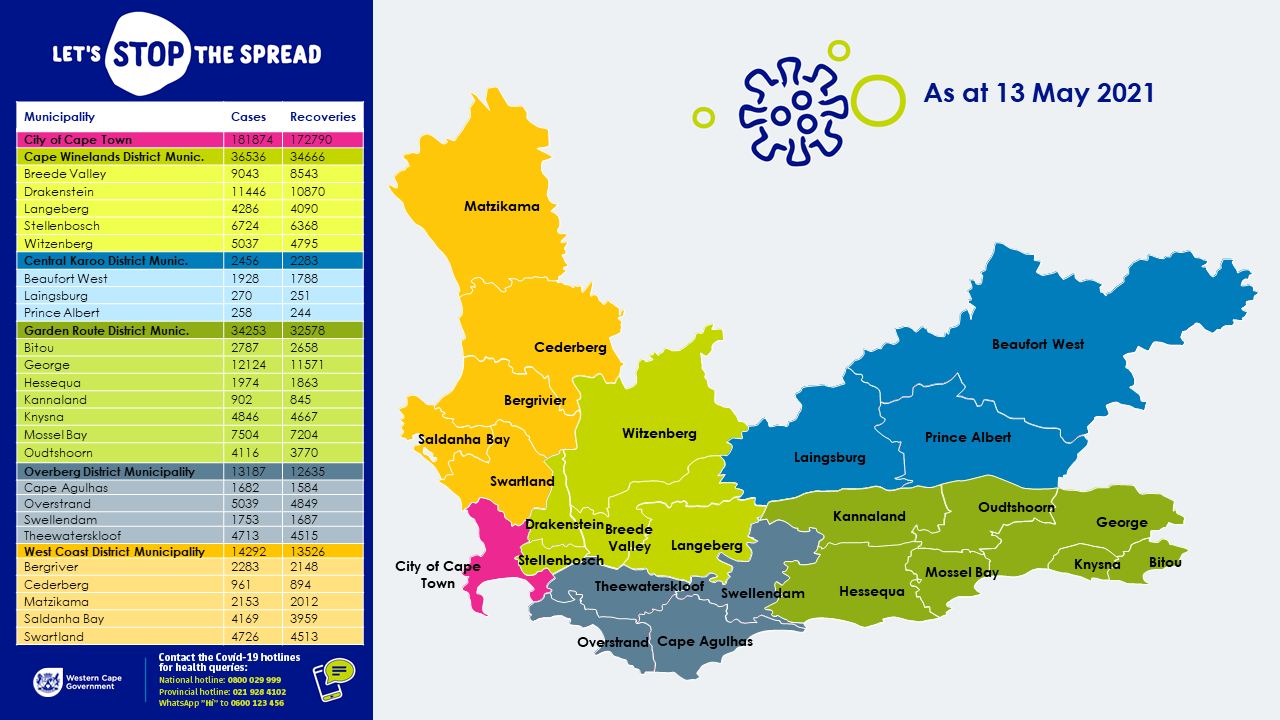 Additional data is available on the Western Cape Covid-19 data dashboard which also features active cases per sub-district, active cases per 100 000 and 7-day moving averages. To view the Dashboard, visit here.
'We bring you the latest Garden Route, Hessequa, Karoo news'