GARDEN ROUTE | HESSEQUA | KAROO NEWS - It's hardly news that business world wide has been hard hit by the corona virus. But, what is definitely newsworthy is how businesses do or don't cope.
The effect of the lockdown on business has been devastating and although a large portion of the economy has been allowed to reopen on Monday 1 June, it is not business as usual.
Aid measures like the TERS UIF benefits, social relief payouts, and debt relief funding for businesses have done little to help.
With diminished spending power and a major industry such as tourism still not on board, business in general is staring great uncertainty in the face.
We spoke to brave businessmen and women across the region to establish the impact and how they manage to keep afloat, if...
George: It's a gigantic struggle
VAN RENSBURG AUCTIONS
Auctions came to a complete standstill during lockdown and it is foreseen that they will not be allowed for a long time to come. Louis van Rensburg, owner of Van Rensburgs Auctions, said they opened again on Monday, but are now doing online auctioning and their very first auction has started. "We bought the online system last year, but never really got it up and running, but there is now no other way. It is a major adjustment. The geniality that came with the social gathering of people is no longer there. It is an impersonal process and reminds me of online shopping."
Also being owner of commercial properties, Van Rensburg has experienced an impact on rental income. "Tenants are really struggling and we have to negotiate to accommodate them. I believe the future is going to be a new dispensation. Nobody can say how life and the economy are going to change, but difficult times are ahead. We are not yet at the bottom of it. I'll just have to adapt to what is coming my way."
A KLOPPERS
A Kloppers director, Willem Klopper (Jnr), said they were severely impacted in the five weeks of level 5 lockdown. "We opened up under level 4 and there has been a bit of interest among customers, but spending is conservative. People buy mostly functional and essential stuff that break down like fridges and microwave ovens or sharper knives and a better vacuum cleaner or broom. These categories did well and I think it is because many people have started doing their own housework."
Klopper did not cut salaries. Staff have been divided into two teams with one team working from Monday to Wednesday and the other from Thursday to Saturday. "In that way, should someone become infected with the virus, the other team can continue on a full-time basis."
About the future, Klopper said, "Nobody can hide from the consequences. We'll only be seeing the real impact on people's income in coming months and how we will be affected in the long term."
Willem Klopper (Jr), a director of Kloppers.
LEW GEFFEN SOTHEBY'S
The real estate sector has been affected dramatically with zero activity during April in extreme lockdown, but with the arrival of May, some life has sprung up again, according to Lew Geffen Sotheby's Principal Tim Kirby. Kirby says in April they had no enquiries on their advertising, but last month, people were looking to buy again and they have concluded a number of deals in George and Wilderness. Among these are a home in Eden, a large piece of ground in Wilderness and two brand-new homes in Mont Fleur Estate.
"The property market has been affected from the beginning of the year as news broke of the virus in other parts of the world, but also due to our economic downturn. It is, however, going to take a long time to build up the momentum that we have lost during lockdown.
"Leaders in the market are forecasting a softening of 10% to 15% in property prices in the Southern Cape. Up north a price drop of between 20% and 30% is being predicted. This will affect some people who want to move down, but on the other hand those moving down have money and will still buy here. We don't know for sure. It's still early days and nobody has a crystal ball. We are encouraged, though, by the activity in May, although it was not at usual levels."
Kirby says they have adapted to work more online through virtual tours and video calling. Some clients, especially older people, are still somewhat nervous of prospective buyers coming into their homes for viewing.
Lew Geffen Sotheby's Principal Tim Kirby.
TIGER WHEEL AND TYRE
Sandra van Rensburg, co-owner of Tiger Wheel and Tyre, said the impact on them is far reaching. "We were allowed to service only those who provide essential services. Our turnover has taken a massive plunge. It will take our staff and us very long to overcome the effect of this. Not all staff are back at work. We applied for the TERS UIF benefits for them, which has been as a hugely frustrating process. The fact that our May applications could be submitted only very late due to system issues on their side, is also demoralising."
Sandra van Rensburg, co-owner of Tiger Wheel and Tyre.
COLOUR LAB HAIR STUDIO
Stefan Ellis, owner of Colour Lab Hair Studio, has put aside his pride and on Facebook has asked his clients for donations. "I have five employees with dependents. In all, about 20 people are affected by our closure. It took massive effort and investment to get my business going and I don't know if I'll be able to operate again if we are forced to remain closed for much longer. As far as hygiene protocols are involved, infection and disease control forms an important part of a hair stylist's basic training, so we are in fact geared for the Covid situation more than most other businesses that are allowed to operate."
E COETZEE PHARMACY
Danie Coetzee, manager of E Coetzee Pharmacy, said although essential items have been selling well, their turnover was greatly impacted because of the no-trading rules pertaining to non-essential stock. "The limited hours have also affected our trade. However, customers stocked up on flu medications, masks, vitamins and gloves, and we can't keep up with flu vaccinations. There is a waiting list and as soon as we get supply, it goes out. We also don't receive all the supply we order as there is a shortage."
THE BENCH RESTAURANT
The Bench owner Wayne Litchfield opened up in Level 4, although they are not fully operational. He has chosen not to do deliveries of hot meals and is only supplying coffee, milkshakes and cold prepared items like sandwiches. "Because of the logistics of delivering hot meals, it does not make it worth it. Out of our 30 staff members, only the barista, manageress and I are working, so the impact of the regulations is far reaching. Our regular customers have been returning and people from the businesses around us."
RUDA'S GROOMING
Things are looking up at a local doggy parlour, Ruda's Grooming, that was issued a permit to begin trading during level 4. Owner Ruda van Loggerenberg says because of the weeks under lockdown, a backlog has built up and her clients were anxious to bring in their pets. "We have a long waiting list and the phone keeps on ringing. There are clients whose money is tight, but in George pets are like children to their owners who would not easily drop this expenditure from their budget. Our prices are also reasonable," says Van Loggerenberg.
SHOPRITE
Shoprite's media desk said the lockdown has caused some items to be out of stock due to import restrictions or delays and they have to plan to ensure that additional stock is secured. There has been increased consumer demand and their order volumes have increased. The demand for baking goods gained popularity during lockdown. Demand for cleaning products and disinfectants, hand sanitiser, wipes and liquid soap as well as some tinned foods, medicines and vitamins remains high and the sale of these has to be rationed. In recent weeks the sale of personal care products has soared and there has been a sharp increase in the demand for hair colour and ethnic hair care products.
• According to the Garden Route District Municipality's Command Council, R7 million of business relief funding has been approved for the Garden Route District through Business Partners (Johan Rupert funding) and in that way 267 jobs were saved. Approvals for debt relief funds through the Small Enterprise Finance Agency (SEFA) in the Garden Route and Central Karoo amount to R4,37 million with 16 SMMEs benefiting to date.
Mossel Bay: It's not business as usual
TYREMART AND OLIVER TREADS
Lorette Grobbelaar, managing director of two vehicle tyre fitment companies and manager of a third, said the biggest challenge is cash flow. "It is under great pressure. Our turnover was zero and we had to pay our debtors. The lockdown came quickly." Grobbelaar, who has partners in the business, said she had R3- to R4-million worth of stock - a necessity to maintain the momentum of the business - that she could not sell.
She is the managing director of Tyremart in Mossel Bay and Commercial Tyre Centre (CTC) in George and has been the manager of Oliver Treads in Mossel Bay for 22 years.
Reduced salaries
"We have 51 staff to look after," said Grobbelaar. "They're currently on 50% of their salaries. We tried to pay them as much as we can, but had to reduce their salaries."
It was hard to keep personnel motivated, as sales always dip in winter, lockdown or not. The mood of staff, suppliers and customers was not good.
She was grateful to have been able to continue with business on 1 May, because tyre fitment was listed as an essential service, but it was too late. The businesses were only making 50% of their winter turnover, which was low anyway.
"There have been some difficulties with clients. Some are extremely strict about the Covid-19 precautions, while others are lax."
The nature of the tyre fitment business makes it difficult for their staff to speak with masks on. "The compressors are noisy. The personal protection equipment is awkward." She pointed out that her businesses are not admin and office jobs where people can sit behind a perspex screen all day. "It's hugely difficult to follow this new abnormal procedures in our businesses."
Return to normal
"Maybe for other trades doing things online is the 'new normal', but for our trade, if we don't return to normal as soon as possible, we will have big problems. We can't be an online business. Fine, you can buy tyres online, but someone must fit and do wheel alignment and balancing. If we don't return to 'normal' normal now, we have big problems in trade. We work on small margins – 10% to 15%. This doesn't cover our expenses and overheads."
Her opinion is that small businesses with one or two staff have less to lose. "Large businesses usually have money behind them, but medium businesses such as ours have a massive dilemma."
Lorette Grobbelaar
MACYOUNG PROPERTIES
Trevor Young, owner of MacYoung Properties in Mossel Bay, said there is no difference between their staff and their business. "We are in it together and have all been affected in similar ways. In the real estate industry we do not fall under UIF, so property practitioners could not claim. It's been extremely challenging. We have assisted our property practitioners as far as we can. Personally, I assist them with a few successful property sales they are working on." Young said the closure of the Deeds Office made matters worse. "There were many transactions that could have been registered. Even if the Deeds Office was on a skeleton staff, it would have made a difference, but we must deal with the status quo." Young and his team had been allowed to work with property clients face to face, or mask to mask, since 1 June. "My staff came in on 1 June. We did all the necessary sanitising and I also gave them training and documentation they had to sign in terms of the regulations, so they could start business as soon as possible." Young has retained all his property practitioners. "I think we all understand the situation we are in."
Constant communication
He is in constant communication with his team members and tries to keep them motivated."The lockdown is severe and uncomfortable, but it's short-lived, hopefully." He said his personnel realised there were limited job opportunities out there. "They have already come so far in real estate and in momentum. They are encouraged to work their property listings knowing they should continue with them instead of starting over somewhere else." He has actually appointed three extra staff. "I have positive news," he enthused. "I'm starting four new businesses after lockdown. I have the advantage of having been through the 2008/9 recession. I have an understanding of what we can expect of the economy and the housing market. Sixty days at home on the computer and Google was fruitful." Young has bought the RealNet property franchise for Mossel Bay and merged his company with the franchise. "Independent property practices will find it a challenge in future with regard to regulations and statutory limitations, with the new laws and acts that have come into being," he said. Young plans to convert MacYoung Properties to RealNet MacYoung Mossel Bay.
Debt counselling
"My wife and I did a debt counselling course during lockdown. Now we can help save people from being blacklisted, economic hardship and sequestration. I will be rolling out a franchise called MacYoung Commercial - a national brokerage firm with headquarters in Mossel Bay. I've been planning it for two years. The fourth business I am starting is a call centre, which will also create jobs. We don't have one on the Garden Route."
Trevor Young
BARUCH'S COFFEE
"Don't get a fright and don't panic." This is the advice of veteran coffee roaster and restaurant owner, Aharon Baruch. Baruch's business, a roastery and coffee packaging factory and restaurant, is a landmark in Voorbaai, Mossel Bay. Two weeks after lockdown started, Baruch reopened his factory. It took him those two weeks to obtain a permit. "I then sold essential items to do with Israeli cuisine, but no food."
Baruch has made the move of closing his restaurant after 22 years in operation and now only has a delicatessen. The change had been in the pipeline. "I took the gap. It was not only because of the virus that I did this. In the first two weeks of lockdown, when I could not sell food, only coffee beans, ground coffee and products, I achieved 50% of turnover." Motivation Baruch said making this money, despite the odds, motivated him to continue. "I had to retrench 40% of my staff - six people."
Customers will be able to get takeaways from the deli and many of the old menu items will still be available. Most restaurants and businesses will change to takeaways," Baruch predicted.
"Suppliers only want cash now. It's not good because they're saying they don't trust you and it's not fair. Research of commodity prices shows one of the few items that has remained the same price is coffee. My landlord did not take rent for April. Some people were really considerate. When there is a disaster or war, it's the best time to think. You're much more clear. If you panic, you will never move forward. Just change how you do business. It's a hard decision. But you can't keep things the same and sit and wait. There's a Jewish saying: you have a gold watch and a cabbage. In good times, you sell the gold watch, in bad times the cabbage. In really prosperous times, you sell both." Baruch also plans to open a barista and coffee roastery school and to offer cooking classes.
Aharon Baruch with what he calls his "baby" - his coffee roaster. Photo: Linda Sparg
Plett & Knysna: Lockdown spells close down
XOLISWA ZONDANI CATERING
Xoliswa Zondani said since the lockdown, she had to close her catering business and has no other income. "I have ended up looking for work as my small business is not operating during the lockdown. I used to cook for people, especially taxi bosses and drivers. They would order their meals every day, but since the lockdown things have changed. Business is so bad that I've had to close down and start looking for a job to put food on the table."
Caterer Xoliswa Zondani
FRENDZ' RESTAURANT
Longtime Plettenberg Bay restaurateur Freund Oberholzer said the lockdown has forced him to close up shop. "Not being able to operate fully, we have been unable to sustain the business." With rent, salaries and other expenses to pay and no income, he has had to make the difficult decision to close Frendz's doors for good. "Although we applied for government assistance, these efforts were unsuccessful." Oberholzer said that in a town driven by tourism and the hospitality industry in general, many businesses would not make it to the end of the lockdown.
Frendz' restaurateur Freund Oberholzer
MOUNT JOY COTTAGES
Yogesh Pama, owner of Mount Joy Cottages, Knysna: "We haven't been able to welcome guests to our cottages, so we have had absolutely no income whatsoever, and we continue to pay our domestic workers because they have been working with us for a long time, so we have money going out but none coming in. It's been a complete loss. My wife Kheli is also a therapist, and because of the intimate nature of her work, she can't open again either, even though she's had people calling in. We are considering renting the cottage out on a long-term lease so that we might garner some income that way, but we're not sure if that will work either. We're just hoping for the best now."
Yogesh and Kheli Pama, owners of Mount Joy Cottages
Oudtshoorn: Geen beheer oor gebeure is skrikwekkend

SAKEMAN ANDRé VAN GREUNEN
"Dit is die eerste keer in my 42 jaar in besigheid dat ek geen beheer het oor wat gebeur nie, en dit is 'n skrikwekkende gevoel." Dit is die woorde van André van Greunen, een van Oudtshoorn se bekendste sakemanne. Van Greunen is reeds 42 jaar in die hardewaremark betrokke en het sedert 1994 toe hy die huidige Timbercity gekoop het agt besighede in Oudtshoorn en Beaufort-Wes op die been gebring wat almal deur die inperking geraak is. Benewens die agt besighede het hy ook verskeie sakepersele op Oudtshoorn, Beaufort-Wes en Mosselbaai wat verhuur word. Met die inperking het hy miljoene rande aan omset verloor terwyl hy steeds sy uitgawes moes dek. "Ek is geseënd dat ek oor die jare met goeie sakepraktyk 'n gesonde reserwefonds opgebou het, maar het nie in my wildste drome gedink dat 'n dag sou aanbreek waar al my besighede gesluit is en huurders ook eenvoudig net nie kan betaal nie. Dit is iets wat niemand kon voorsien nie."
Volgens hom het die vergunning om van die besighede in Mei oop te maak gehelp dat hy sy personeel kon behou alhoewel hy skaars 30% van sy normale omset gedoen het. "Ek het eintlik besluit om die besighede aan die einde van Mei tydelik te sluit totdat die inperking verby is, maar gelukkig het ons na vlak 3 geskuif en nou is daar weer beweging."
Het hy enige lesse geleer uit wat tans aan die gang is? "Ja, ek het twee dinge geleer. Die eerste is dat mens nie moet dink jy is untouchable nie en die tweede ding wat ek geleer het is hoe ongelooflik sterk mens se ondersteuningsisteem is. In my geval is dit my familie en my lojale kliënte. Hy sê die inperking was vir hom besonder moeilik omdat sy vrou, Lulu, wat sy vennoot in besighede was, meer as twee jaar gelede oorlede is. "Sy was my klankbord en ek mis haar insette en haar teenwoordigheid ongelooflik."
Wat is sy raad vir besighede wat nou weer moet opstaan? "Betaal jou verskaffers dadelik, hou jou kostes laag sonder om jou diens te verswak en koester jou kliënte se lojaliteit."
André van Greunen, die eienaar van agt ondernemings, in die tak van Timbercity, Oudtshoorn.
SAKEMANNE JACO VORSTER & JOHAN VAN HEERDEN
Nog twee bekende sakemanne wat vier ondernemings in Oudtshoorn het en die wyse waarop hulle besigheid doen heeltemal moet herontwerp, is Jaco Vorster en Johan van Heerden. Hulle is die eienaars van Camp Roadhouse, Camp Bakery en Wes-Handelshuis wat reeds dekades op Oudtshoorn bestaan. Hulle het letterlik weke voor die inperking ook 'n vierde onderneming, Grand Street Studios, gekoop. Hulle sê ook dat hulle besighede se omset skaars 30% is van wat dit was. "Alhoewel ons die hele tyd kon besigheid doen het die koopkrag geweldig afgeneem, verbruikerspatrone het radikaal verander en elke besigheid sal moet herbesin oor hoe hy die pad vorentoe aandurf.
Wat is hulle raad vir die toekoms? "Dit is baie moeilik om te bepaal hoe mens die toekoms moet benader, want die toekoms is nie net onbekend nie, dit is onwerklik. Ons neem elke dag soos wat dit kom en leer elke dag nuwe maniere om aan te pas." Vir hulle is dit belangrik dat inwoners van dorpe soos Oudtshoorn hulle geld plaaslik moet spandeer en van sakekant af moet besigheidseienaars na hulle kostes kyk, "Ons moet vrae vra soos, het ons al die spasie nodig wat ons tans het, is al ons produkte nog relevant en daarvolgens beplan." Maar, soos André van Greunen is hierdie twee ook positief. "Dit wat tans met ons gebeur, gebeur met almal. Ons kan nie emosioneel raak of dit persoonlik neem nie, letterlik die hele wêreld gaan deur dit wat ons nou ervaar."
Johan van Heerden (links) en Jaco Vorster in Wes-Handelshuis, een van die twee vennote se vier sakeondernemings. Foto's: Hannes Visser
Hessequa: Trek noustrop, maar positief
SNYMAN BOUMATERIALE
Carl Snyman van Snyman Boumateriale op Riversdal erken dat dit verseker 'n tyd was "van hande saamslaan na Bo die eerste 21 dae". Hulle was egter gelukkig genoeg om met vlak 4 weer te kon oopmaak. "Ons het goeie ondersteuning van die publiek gekry en meeste van ons verskaffers het ons tegemoet gekom wat die betaling van rekeninge betref. Die banke was ook bereid om te help waar nodig, so dit is definitief nie volstoom nie, maar ons is dankbaar vir dit wat ons kry uit ons gemeenskap."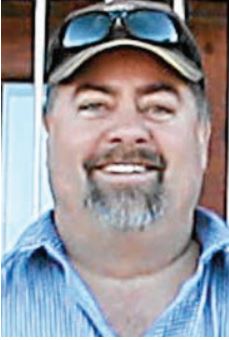 Carl Snyman van Snyman Boumateriale
LILLIPUT
Die inperking het klein besighede soos die Stilbaai koffiewinkel, Lilliput, sleg getref. Eienaar Magda Niemand sê: "As ek hieroor dink, voel dit of daar net 'n swart gat is." Hoewel hulle soos ander restaurante die afgelope ruk toegelaat is om wegneemetes te bedien, was dit nie vir so 'n klein onderneming lonend nie: "My boekhouer het die somme gemaak en ons sou meer verloor as gewen het op die hoeveelheid bestellings wat ons sou kon aflewer." Hulle sal van Dinsdag 2 Junie af weer hul deure oopmaak, aangesien heelwat meer mense onder vlak 3 aktief is en bestellings by die restaurant opgelaai kan word. "Ons bly positief!" sê sy.
Magda Niemand van Lilliput
Graaff-Reinet: Adapt and survive
PAK TECH
Azeem Akram, owner of tech store Pak Tech in Graaff-Reinet, said business operations are not like before, but business always has its ups and downs. Pak Tech is allowed to sell and repair cellphones during this time, but cannot sell other electronics. "I am also worried because we are struggling to get stock. It used to take a month and a half to get stock from China, and now the borders are closed." Despite the challenges his business faces, Akram recently supported the Graaff-Reinet community by handing out food parcels to the needy. "We budgeted for it, and it's a simple logic: the community helps us, so we help them. We must all support each other," he said.
Azeem Akram Photos: Paula-Ann Smit
HEALTHISKIN
Carlin Loots, owner of Healthiskin in Graaff-Reinet, said business owners must make the decision to adapt and survive. "After lockdown, we will all have to adjust how our businesses operate, because the demand for products and services will still be there, but people won't be able to spend what they always did." When lockdown struck, Loots had four months' stock on hand, but couldn't make sales or offer treatments because regulations prevented her from getting a permit as a sole proprietor. "I had sleepless nights, because I still had bills to pay," she said. She was able to make arrangements with some suppliers to pay off products already shipped to her. She also got a permit through a supplier to state that the products came from them, and started to sell sanitisers and masks. "With Level 4 lockdown I could make other plans, like at-home tint kits and face masks, and we are now allowed to sell skin, makeup and hair products." Loots has also since moved her at-home business to a space on Somerset Street, to keep her family safe, and does door-to-door deliveries. "Social media has been a big help to communicate with my customers during this time," she added.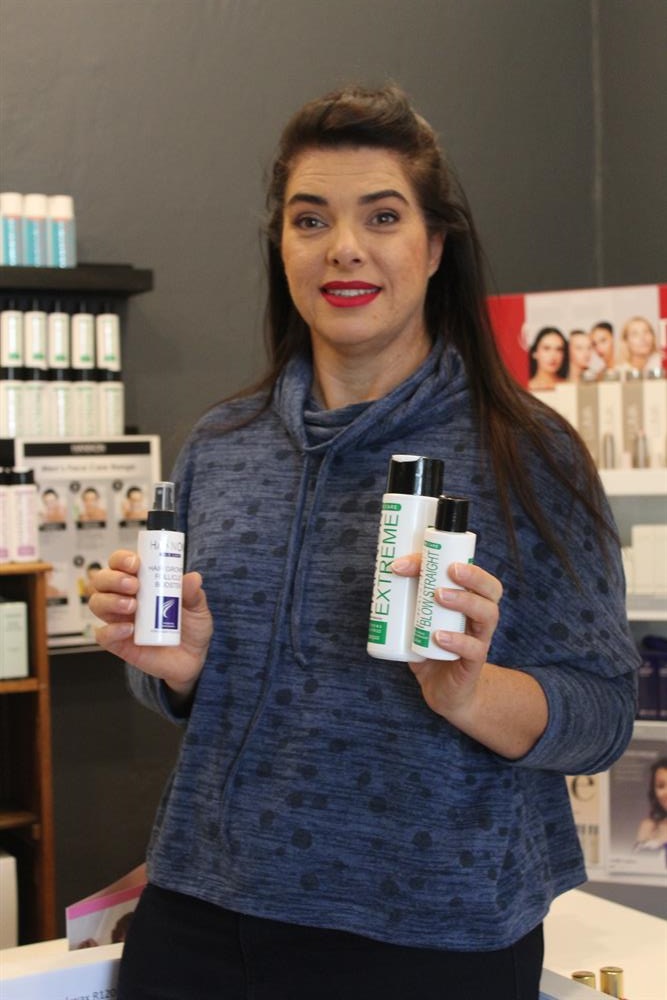 Carlin Loots
RIVERSIDE ENGEN
Marietjie Steenkamp, owner of Riverside Engen in Graaff-Reinet, said they are grateful that their doors could remain open for business, but April was a financial disaster. As lockdown restrictions are eased, the garage is getting busier, but Steenkamp said it is far from where it used to be. "Lockdown also requires good planning, because many suppliers don't deliver and some have drastically changed their terms." However, Steenkamp says they remain positive. "The good news is we can bake delicious pies daily again!"
Marietjie Steenkamp
Dear reader, As your local news provider, we have the duty of keeping you factually informed on Covid-19 developments. As you may have noticed, mis- and disinformation (also known as "fake news") is circulating online. Group Editors (publications and online platforms) is determined to filter through the masses of information doing the rounds and to separate truth from untruth in order to keep you adequately informed. Local newsrooms follow a strict pre-publication fact-checking protocol. A national task team has been established to assist in bringing you credible news reports on Covid-19.
'We bring you the latest Garden Route, Hessequa, Karoo news'