MOSSELBAAI NUUS - Die regering het 'n nasionale projek van stapel gestuur waartydens plakkate in woonbuurte, wat as Covid-19-brandpunte uitgewys is, opgerig word.
Die onderskeie munisipaliteite in die land beskik oor 'n databasis van die hoeveelheid huishoudings wat in hul bedieningsgebied positief vir Covid-19 toets. Volgens die inligting word brandpunte dus bepaal.
Dit word geklassifiseer as 'n gebied waar die syfer van inwoners wat positief toets, drasties styg.
Streekkoördineerder vir regeringkommunikasie, Jethro Grootboom sê die rede hoekom hulle vir mense wil sê dat 'n gebied 'n brandpunt is, is sodat inwoners in daardie gebiede die riglyne sal begin volg om die verspreiding van die virus te vertraag. "Mense in die brandpunte volg nie noodwendig die riglyne, soos om maskers te alle tye dra dra, hul hande gereeld te was en om sosiale afstand te handhaaf nie. Ons maak inwoners dus in daardie gebiede bewus daarvan indien dit 'n brandpunt is sodat hulle hopelik sal begin ag slaan op die riglyne en daar gevolglik 'n afname in die Covid-19-syfers kan kom," sê Grootboom. "Die doel is om gemeenskappe wat daar woon, te beskerm, sodat inwoners bewus is van 'n hoë infeksiesyfer in hul omgewing en sodat inwoners ekstra sorg kan toepas om hulself en hul gesinne te beskerm."
Die munisipaliteit het hul bewusmaking van die Covid-19-virus in KwaNonqaba, Elangeni, Aslapark en D'Almeida vergroot.
Die bewusmakingsmetodes sluit in die gebruik van 'n plakkate teen lamppale en meer siftingstoetse wat in die gebiede gedoen word.
Gemeenskappe word aangemoedig om nie onnodig die huis te verlaat nie, om hul maskers te alle tye in openbare plekke te dra, hulle hande gereeld te was en om sosiale afstand te handhaaf.
---
The Mossel Bay municipality has increased their Covid-19 hotspot Awareness for KwaNonqaba, Elangeni, Asla Park and D'Almeida. Hotspots are areas where the rate of infection has increased dramatically through community transmission. A dedicated multi-disciplinary task team has been established to give special attention to those communities showing high rates of transmission of infection and to address the adherence to the Covid-19 regulations and health protocols in general. The awareness methods include the use of a trailer banner which will move around to different streets within an area and lamppole posters.
Regional coordinator for government communication, Jethro Grootboom says this is not about stigmatizing a particular area but rather to protect the community members living in that area."We need people to know that they are in a high risk area. We hope that people will then wear their face masks, wash their hand frequently and keep their social distance in order for the curve to flatten."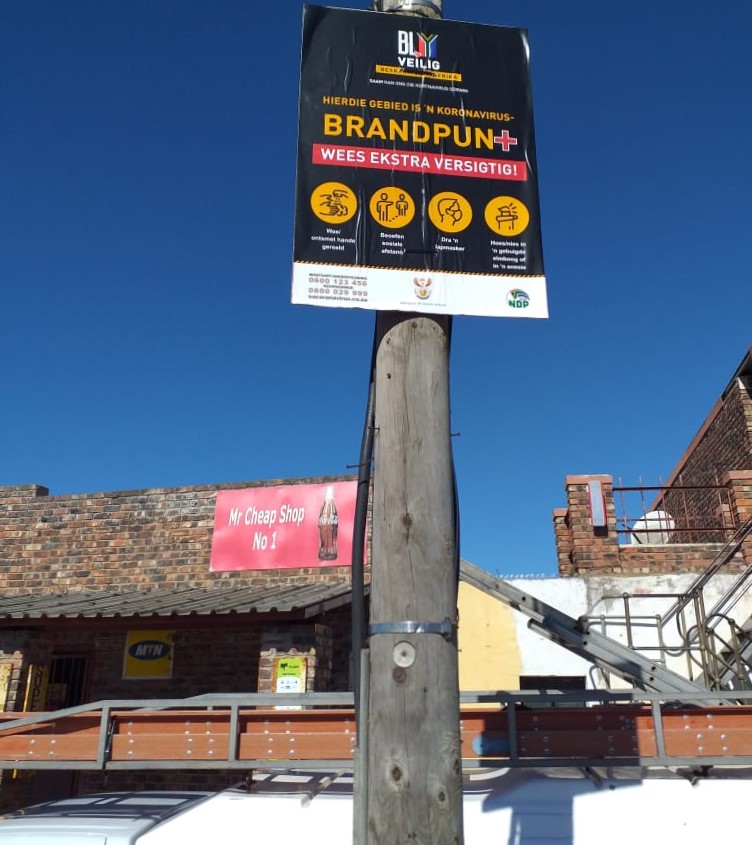 Plakkate word in woonbuurte wat as Covid-19-brandpunte uitgewys is opgerig.
Dear reader, As your local news provider, we have the duty of keeping you factually informed on Covid-19 developments. As you may have noticed, mis- and disinformation (also known as "fake news") is circulating online. Group Editors (publications and online platforms) is determined to filter through the masses of information doing the rounds and to separate truth from untruth in order to keep you adequately informed. Local newsrooms follow a strict pre-publication fact-checking protocol. A national task team has been established to assist in bringing you credible news reports on Covid-19.
'Ons bring jou die nuutste Mosselbaai, Tuinroete nuus'