Gallery
MOSSEL BAY NEWS - This will be a first for Mossel Bay and for South Africa.
Technology not in use yet for the fishing industry anywhere in the country, but employed widely in first world countries, is proposed for the Afro Fishing fish meal processing plant that is planned for the old I&J site in the Mossel Bay harbour.
Click here for a photo gallery.
"Because it is starting from scratch, Afro Fishing can use the best available technology on the market to design and put in place - according to best practices - all the safeguards afforded by this latest technology to prevent any odours or other nuisance," says environmentalist Melissa Mackay.
Effect on air quality
The effective use of regenerative thermal oxidisers (RTO) at fish meal plants and their effect on air quality were investigated by an technical team who visited Portugal and Spain last week.
The RTO is widely used in Europe. Internationally, test results indicate that technology such as the RTO prevents air quality problems associated with organic compounds.
"According to the Environmental Protection Agency of the USA, thermal treatment is the best way to destroy odours at fish meal plants," chemical engineer Chris Albertyn said.
He said the RTO oxidises the odorous compounds at 800 to 850 degrees Celsius.
Afro Fishing chief executive officer Deon van Zyl, a qualified chemical engineer with an MBA (University of Cape Town), led a technical team on a visit to two fish meal plants in Europe, where the best available technology is used in the processing of fish meal according to European Union standards.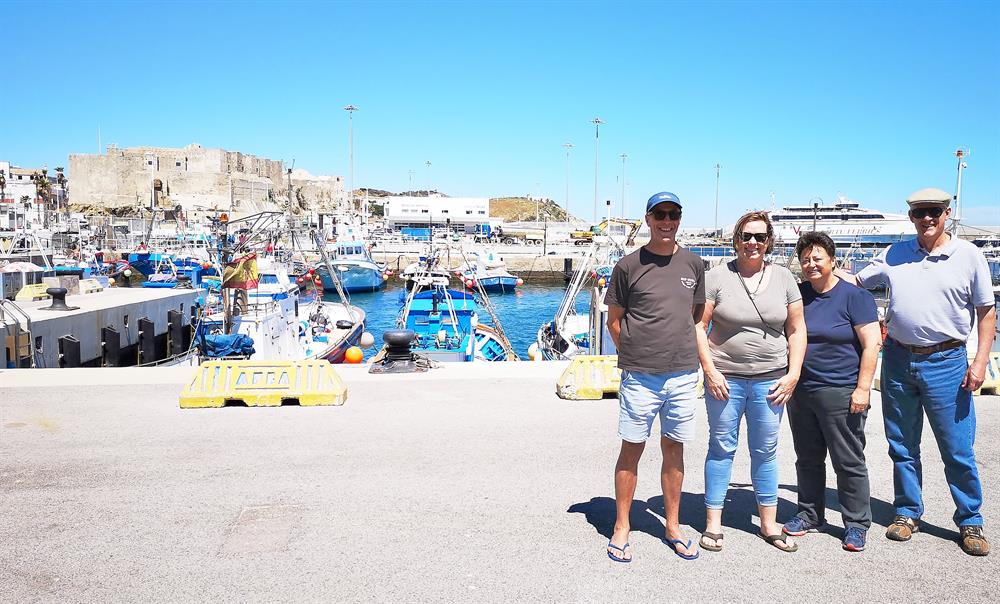 The technical team, Deon van Zyl, CEO of Afro Fishing Mossel Bay, Melissa Mackay of Cae EAPrac, and Chris Albertyn, consultant chartered engineer with Mossel Bay Advertiser news editor Nickey le Roux in Tarifa, Spain.
Technology and best practice
The purpose of the visit was to investigate best practices at the plants, where the said technology has been employed for several years and to note how it impacts the ambient air and odours usually associated with such plants. The team also assessed the operating reliability of RTO processes.
Van Zyl told the Mossel Bay Advertiser, which accompanied the technical team on the visit, that he is totally aware of the concerns raised by residents about odours and possible pollution.
"We have only just started the environmental impact assessment and authorisation process, which involves various aspects and consultation with the public prior to any final decision being made on the development," Van Zyl emphasised.
The environmental impact studies, he says, will be used to assess the potential impact of Afro Fishing's proposed expansion and development into fish meal, both on the physical environment and on the social environment. The results of the extensive impact assessment will assist the relevant authorities in their decision making.
Similar to Mossel Bay
Two towns with characteristics very similar to Mossel Bay were visited. In Spain, a plant close to Tarifa was visited. Tarifa is a small, historic town in the province of Cadiz, Andalusia, on the southernmost point of mainland Europe. Its popularity as a holiday destination has increased in recent years, mainly due to its position as Europe's most significant windsurfing and kitesurfing destination. In Portugal, the factory Fabrica de Farinhas Oleos de Peixe, located in the working harbour of Peniche, was visited. Peniche is a seaside village located in the Oeste sub-region. It is a popular beach destination, known among surfers as "surf central" and home to annual international surfing competitions hosted on a beach directly adjacent to the fish meal plant.
Both towns are highly dependant on the oceans economy and tourism for job creation and economic sustainability.
European Union standards
Environmentalist Melissa Mackay said: "What was very interesting for me, especially at the Peniche plant, was that the owners, Rui and Joao Dias, were extremely open about the problems they had experienced with odours until they implemented the RTO system some ten years ago.
"Old technology had been a problem. The factory now operates with all the relevant licencing from the authorities - of which we were given copies - according to very strict emission standards of the European Union (EU) for odours.
"South African legislation is similar; our laws have taken a lot of information and limited thresholds from EU standards," Mackay said.
Pungent odour
"South Africa has no set limits for a compound called Trimethylamine (TMA) - a pungent, fishy, ammonia-like odour. It was important for me to note that the RTO is able to reduce the TMA emissions. TMA emissions are not usually measured at fishmeal plants. However, special preparations were made by one of the possible suppliers of the technology, Haarslev to have TMA measured in Peniche on 12 June."
Fresh fish
As opposed to the plants visited, Mackay said Afro Fishing would use predominantly fresh fish for their fish meal processing plant, further limiting possible odours.
Credentials
Apart from Van Zyl, the technical team consisted of Cape Environmental Assessment Practitioners (Pty) Ltd (Cape EAPrac) senior environmental consultant Melissa Mackay (Practitioner / GIS / ECO) and chemical engineer Chris Albertyn, who is registered as a Professional Engineer (PrEng) by the Engineering Council of South Africa (ECSA) and a Chartered Engineer (CEng) by the Engineering
Council in the UK, and is certified as a Qualified Environmental Professional (QEP) under the Institute of Professional Environmental Practice in the USA, a certification that is awarded for multidisciplinary environmental management expertise. The Qualified Environmental Professional (QEP) certification was initiated in the USA with the aim of improving environmental management in general and is an international programme. Mossel Bay Advertiser news editor Nickey le Roux accompanied the team on its visit.
Participate
Van Zyl urges Mossel Bay residents to participate in the environmental impact assessment currently being done for the proposed fish meal plant. Register as an interested or affected party by sending an email to mel@capeeaprac.co.za
More information is available on www.cape-eaprac.co.za.
The Dias brothers in discussion with Deon van Zyl and Melissa Mackay on the popular Super Tubes beach in Peniche, where annually an international surfing competition is hosted. The beach is adjacent to the fish meal plant.
'We bring you the latest Mossel Bay, Garden Route news'