Video
GARDEN ROUTE NEWS & VIDEO - While the Garden Route has experienced a 49% increase in Covid-19 cases in the week up till Thursday 3 June, more vaccination centres have come on line.
Yesterday, Wednesday 9 June, the George Centrum Clinic site welcomed a steady stream of people who were eager to be vaccinated.
George Municipality's Housing Department vacated some of its office space to enable the establishment of the site. Medical manager of the George health sub-district Dr Zilla North said quite a number of people are reporting at all the vaccination sites.
"We are a bit concerned over low registration numbers and would like to urge people to register as soon as possible because we are worried about the third wave being with us soon."
District health communications officer Nadia Ferreira said more vaccination sites are brought on line every week. This week, 6 786 vaccine doses were received.
"A total of 21 vaccination sites are currently active. In the George sub-district, inoculation takes place at Harry Comay Hospital, Thembalethu CDC, George Central Clinic, Pacaltsdorp Clinic and Uniondale Hospital. The opening of sites is linked to the supply of vaccines received from the National Department of Health, with deliveries expected on a weekly basis.
"We kindly ask people to wait for their second SMS before going to a site so that we can prevent long queues and ensure a Covid-19 safe process," said Ferreira.
Watch a video below:
If you have not received your second SMS and want to confirm that you are registered on the Electronic Vaccination Database System (EVDS) or update your details, go to https://vaccine.enroll.health.gov.za/#/, type in your details and follow the steps.
"If you do decide to go to a vaccination site without an appointment, we cannot guarantee that you will get a vaccine as those with appointments will be prioritised. We thank the public for their patience and support."
A thumbs-up after the start of Covid-19 vaccinations at the George Centrum Clinic. From left are: operations manager Sr Glenda Carolus, primary health care manager Sr Melanie Marthinus, Dominique Otgaar (Housing Department), Acting Municipal Manager Dr Michele Gratz and George sub-district medical manager Dr Zilla North.
Mediclinic Geneva expecting new batch
Mediclinic George and Geneva manager Kassie Karstens said they administered 1 171 vaccines last week after the opening of their vaccination site at Geneva. "Our supply was used up and availability is very limited. We are receiving another batch on Thursday 10 June and will start vaccinating at full steam again on Monday. We have also ordered again for the following week." Karstens said they experienced an increase in Covid patients over the past weekend, but the situation is manageable.
"We ask the public to please be careful and adhere to preventative behaviour."
Deputy Director of Comprehensive Health Edith Swanevelder (left) and health cluster lead for the Garden Route Dr Terence Marshall visited the vaccination site on its opening day. Dr Zilla North, medical manager for the sub-district, took them on a tour.
Big increase in cases
Head of the Western Cape Health Department Dr Keith Cloete said a big increase in cases is being experienced in all sub-districts in the Garden Route, except Kannaland and Hessequa, with Mossel Bay of special concern.
According to the Western Cape Covid-19 Dashboard, the active cases per sub-district as at Tuesday 8 June are: Mossel Bay 181, George 170, Oudtshoorn 72, Knysna 46, Bitou 41, Hessequa 25 and Kannaland 6. This totals to 541, compared with 372 a week ago and 274 the previous week.
There have been small outbreaks including at a number of schools. The Western Cape Education Department confirmed five positive cases among staff of Parkdene Primary in George. No pupils tested positive.
Seven deaths were recorded between 1 and 8 June.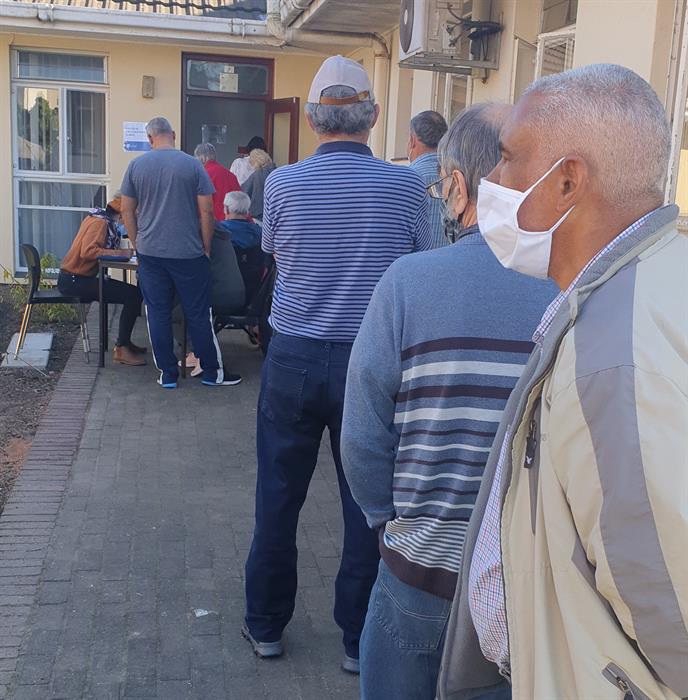 A steady stream of people arrived for vaccination at the George Centrum Clinic vaccination site on opening day. Photos: Alida de Beer
3rd wave can cause havoc
Cloete said the third wave has to be curbed so that the vaccination programme is not interrupted. Furthermore, a third de-escalation (as in the first and second wave) of other routine health services "will cause havoc in having to catch up" with these services.
The high pressure on healthcare workers who are vaccinating people on top of delivering routine health services will increase as Covid cases increase.
"Vaccination will reduce hospitalisations, which will ease the pressure. This is an urgent appeal to help us to continue vaccination and so reduce cases that come to hospital."
'We bring you the latest Garden Route, Hessequa, Karoo news'