Advertorial Gallery Video
MOSSEL BAY BUSINESS NEWS - If ever you are indecisive about where to wine and dine, ReedValley - now more than ever - is the ideal spot.
Its full-blown restaurant opened on Friday, 27 November. The Succulent eatery, nursery and deli is a "living" restaurant by all accounts.
An integral part of the décor in this semi open-air venue is a vast variety of succulents on sale.
Patrons get to enjoy the exquisite food, wine and views of ReedValley. A hydroponic garden is up and running and will soon be the source of greens served in the restaurant.
At The Succulent, the youthful, award-winning chef Michelle de Jager, shares her mastery of food. After completing her studies, Michelle honed her skills at Café Gannet before spreading her wings in the family business at ReedValley. While still a student at the Francois Ferreira Academy in George in 2019, she came first in the regional Chaîne des Rôtisseurs Jeunes competition, which saw her competing in the national competition in January this year.
Photo gallery: The Succulent at ReedValley farm
Passionate and ambitious, she says that her aim is to put The Succulent on the map as the best restaurant in the area. She serves artisan food, with an added twist of the Mediterranean flair she loves so much.
Michelle prides herself in using prime local products in her restaurant. "We have sourced only the best and firmly support buying local." As a bonus to patrons, all this local fare is available at The Succulent's deli.
"Here, our guests will be able to enjoy an exclusive, upmarket dining experience at prices within their reach," Michelle says confidently.
The Succulent has a capacity of 70 patrons in an appealing, rustic, country setting. Thanks to a specifically designed platform, bookings can be done online. "Bearing in mind that we are a short drive outside of town, we would hate to disappoint our guests by turning them away due to being fully booked. Hence, bookings are essential, to avoid disappointment," Michelle concludes.
For more information, contact ReedValley on 044 698 1022. Online reservations can be done at www.reedvalley.com
ReedValley Farm is on the R327, the Herbertsdale Road.
Watch a video below:
Chef Michelle de Jager, with television presenter Gerrie Pretorius (Leef Jou Reis) and her sous chef, Gian Rademeyer.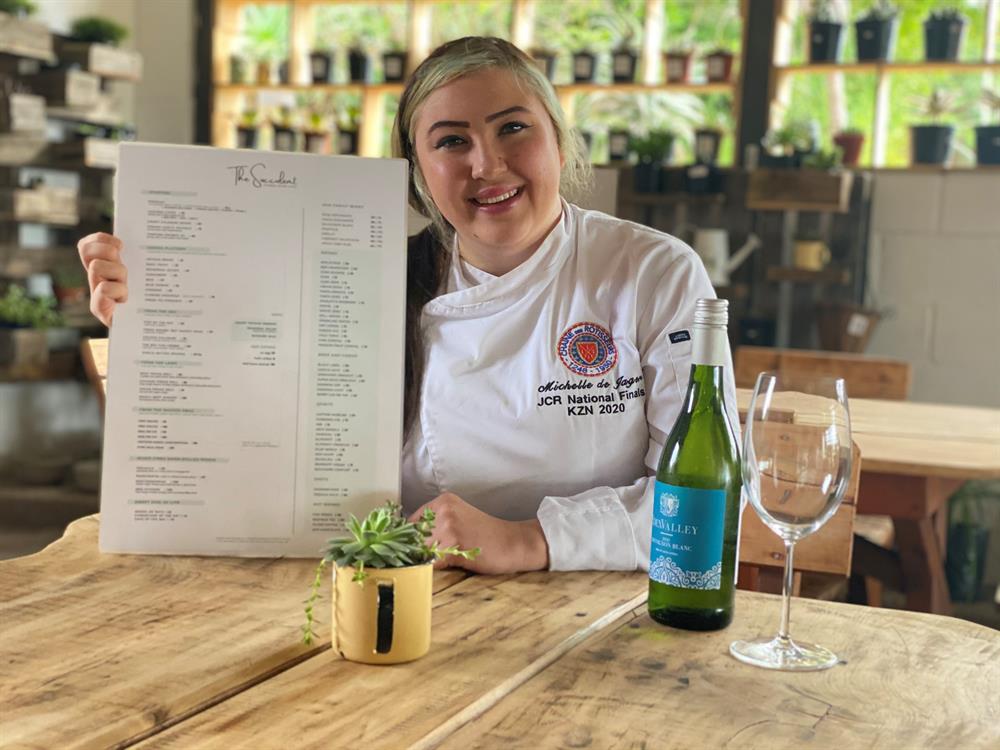 Chef Michelle de Jager is the creative brain behind The Succulent.
'We bring you the latest Mossel Bay, Garden Route news'