Advertorial Gallery Video
TUINROETE SAKENUUS EN VIDEO'S - Die drie vroue by die BayCare Mediese Sentrum op Hartenbos, is energiek, dinamies en span die jongste tegnieke en tegnologie in vir hulle kliënte se gerief.
Drie vroue, drie dissiplines
Fisioterapeut Mieneke Middel, het haar lewe lank in Hartenbos kom vakansie hou en het ses jaar gelede saam met haar man hier kom vestig. Sy werk al ses jaar in privaat praktyk op Hartenbos.
"Ek behandel 'n groot verskeidenheid pasiënte, meestal met spier- of gewrigsverwante pyn, ná operatiewe rehabilitasie, akute sportbeserings, asook pasiënte met kroniese pyn en nog meer."
Sy doen graag droënaaldterapie en geniet rehabilitasiewerk. Danksy 'n Pilates-kursus wat sy voltooi het, kan sy pasiënte toerus met tuisprogramme vir deeglike nasorg.
"Fisioterapie pas by my geaardheid. Ek is lief vir mense en doen my bes om elke pasiënt te help met 'n holistiese benadering sodat hulle lewenskwaliteit kan verbeter."
Mieneke geniet spanwerk en is opgewonde oor die moontlikhede by BayCare.
Fotogalery: BayCare Mediese Sentrum op Hartenbos
Dr. Alta van As is oorspronklik van Riversdal en doen haar diensjaar by Mosselbaai-hospitaal, nadat sy saam met haar man op Mosselbaai hervestig het. Sy het vanaf Maart 2015 by 'n privaat praktyk op Hartenbos gewerk.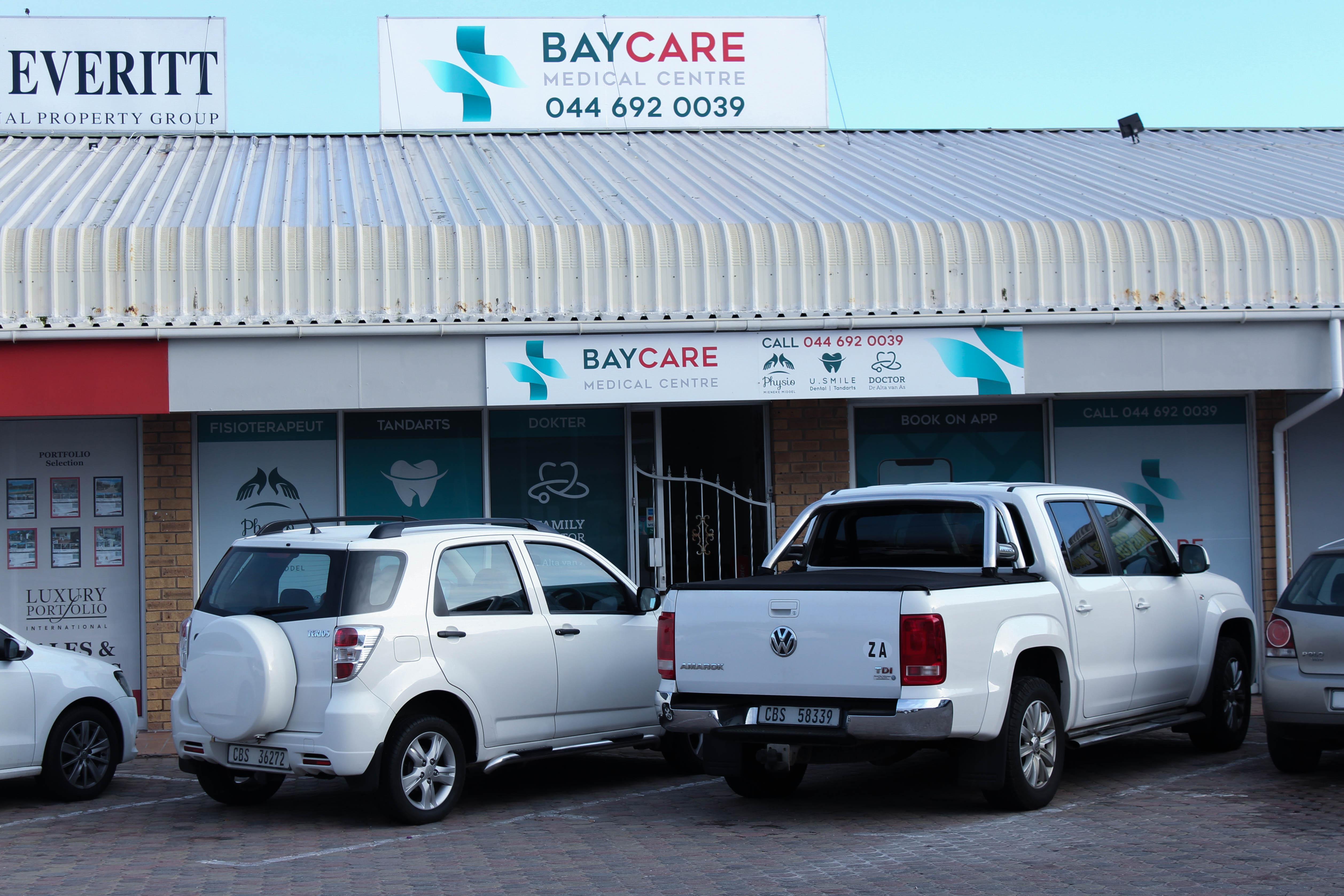 Alta geniet privaat praktyk omdat dit binne 'n familiekonteks geskied. "Jy leer nie net 'n individu ken nie, maar die hele gesin van ouma tot agterkleinkind." Sy erken dat sy beslis 'n sagte plekkie vir kinders het.
Wat BayCare uniek maak, meen sy, is dat dit 'n omvattende mediese diens insluit wat 'n fisioterapeut, dokter en 'n tandarts insluit. "Dis 'n heel nuwe avontuur. Drie vroue, drie verskillende dissiplines - alles onder een dak."
Anelle Pretorius het tandheelkunde studeer aan die Universiteit van die Wes-Kaap. Na 'n draai aan die Weskus, het sy in Januarie 2020 op Hartenbos by U-Smile begin praktiseer. Anelle doen algemene tandheelkunde soos stopsels, kroon en brug, wortelkanaal, kunsgebit en ekstraksies.
"Pasiënte sal warmte en vriendelikheid by ons ervaar. Ons wil hê dat hulle op hul gemak moet wees as hulle ons besoek. Ons maak ook nou gebruik van die nuwe gebruiksvriendelike Onebook-toepassing wat pasiënte self op hulle fone kan aflaai en sodoende hulle eie afsprake te maak."
Kyk 'n video hieronder:
A life-changing app
Onebook, an application born and bred in Mossel Bay, offers a user-friendly, convenient booking system accessible anywhere at any time.
The application is suitable for a vast variety of businesses. Whether you are in the medical, beauty or maintenance industry, Onebook takes care of your calendar and appointment bookings, without hassle.
Once you have registered your business on your Onebook profile, you select a slot that suits you, which you can approve at the touch of a button.
The app is free to customers at all times. Hence, you don't lose out on business after hours. Onebook offers complete calendar management and instant notifications to fast-track you on your daily or weekly schedule.
The app helps you manage cancellations, thanks to an automatic reminder system.
Watch a video below:
A neat broadcasting feature allows you to update clients on special offers and more, to keep your business rolling. Onebook provides you with useful reports on various aspects of your business and allows your regular customers to rate and recommend your business to others.
Onebook is a unique and convenient feature at BayCare Medical Centre. Why not register your business too – today!
Click here to see how Onebook works
'Ons bring jou die nuutste Mosselbaai, Tuinroete nuus'