BUSINESS NEWS - A government report released in November – 25 Year Review: A guide for SA's growth – shows that the number of people employed since 1994 has almost doubled to 16.5 million.
Despite this, unemployment has continued to climb due to the economy not being able to absorb the number of people that enter the labour market each year.
Unemployment now stands at 29%, the highest rate since 2003. Youth unemployment rate reached an all-time high of 58.2% in Q3 2019.
Only one in three young people of working age are employed.
South Africa's unemployment rate – 1994 to early 2019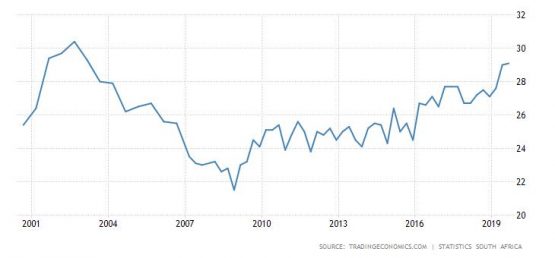 Source: Tradingeconomics.com, Stats SA.
There has been a lot of talk about 4IR and whether it has the ability to improve South Africa's economy. Unemployment is mainly caused by the mismatch of skills, high-level entry requirements, and the inability of the economy to create enough jobs to keep up with the growing labour force.
Creating jobs should be government's main approach to solving the employment crisis – the question is whether 4IR can support that.
4IR has already created jobs that did not exist before – think of the staff member who administers your online shopping once you select 'Pay', the warehouse packer who neatly packages your order, and the driver who makes sure it gets to your doorstep. Online retail continues to grow as a result of massive investments, which should result in more employment.
New opportunities
Ride hailing apps such as Uber, Bolt and eDriver represent another area where jobs have been created as a result of 4IR. The innovation has put the power of 4IR directly in the hands of drivers and commuters. Many who were previously unemployed or were looking for second source of income can now make a good living as a ride-hailing driver.
Some have even started their own fleets of vehicles, which has fuelled entrepreneurship and created employment for other drivers.
The revolution will change the way all industries operate. Banking will become more automated, smart classes could eventually replace traditional learning, and self-driving cars will make travel easier and safer. It will bring out new technologies that will process information more easily and perform services with more efficiency, which will increase outputs and could create more jobs, some of which did not exist before.
However, many believe technology is taking over current jobs that will not be replaced. In South Africa, some banks have closed down branches and retrenched workers, while Multichoice plans to retrench workers in order to roll out new automated technologies.
Earlier this year, President Cyril Ramaphosa warned South Africans to brace themselves for mass job losses to technology with the implementation of the 4IR. As technology advances, more jobs will be automated, limiting the need for human input.
Online shopping
Analysts have predicted that in the long term online shopping will have a negative effect on South Africa's employment rate, like it did in America. Employment growth in the US retail industry has remained strong, but retailers are still shedding more jobs than they are creating. Our local sales people could get replaced by informative websites, and daily tasks that are performed by store employees could be replaced by machines or outsourced to customers. These jobs are likely to decline slowly while online employment is growing.
Employees in South Africa's meter and minibus taxi industries have seen a decline in earnings and employment due to the rapid growth of the ride-hailing industry. Despite this, ride hailing has created more jobs than it has destroyed, as it has increased self-employment. The slight increase in unemployment due to this industry has resulted in the launch of an app called Taxi Live Africa, designed to allow metered taxi drivers as well as private and owner-driver taxi entrepreneurs to also operate efficiently in this competitive industry. It has recently been launched in a few cities in South Africa, and will hopefully help increase employment in the transport industry as a whole.
4IR will require future entrants into the labour force to be equipped with skills that will be required to take on the new jobs that technology will create, and with the skills that will be necessary to help them succeed as entrepreneurs. This could open up more job opportunities that do not currently exist, which will decrease unemployment.
However, primary and high school teachers are not being provided with the training and development they need to be able teach a 4IR-geared education to learners.
This could result in a further mismatch of skills in future and an increase in the rate of structural unemployment due to 4IR.
The fact remains that 4IR is taking over. What is not clear is the impact it will have on employment, particularly in a country like South Africa. Some occupations will decline, but others may be created.
The jury is out, and only time will tell. But everyone can take steps to prepare for it.