Gallery
MOSSEL BAY NEWS - The world's longest over-ocean zipline, which is in Mossel Bay, was officially launched on Saturday, 25 January.
The zipline was approved by the Mossel Bay Municipality in 2017 and stretches from below the St Blaize trail to the deck of the Shark Lab Mini Aquarium at the Point.
Adrenaline junkies will enjoy a speed of up to 80km/h on the 1.2km ride, from the cliff at the Point to the landing platform 1 100 metres below. They can go on their own or do a tandem ride with a guide.
Mossel Bay Advertiser editor, Suzette Herrer, was invited to take part in the launch and experience the zipline ride herself.
Click here for a photo gallery.
"It was a very nice experience. Not scary, just thrilling, and the nature surrounding the zipline is beautiful. It is definitely worth a try if this is on your bucket list," she says.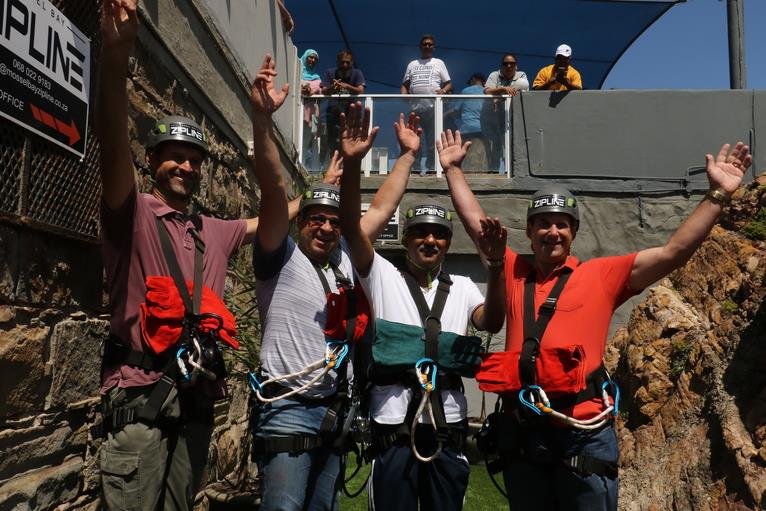 These four men from the municipality were the first to ride the zipline.
Carel Venter (director: Planning and Economic Development), Joseph Johnston (head: Fire and Disaster Management and Dick Naidoo (director: Infrastructure Services). Photo: Jannie du Plessis
The municipality hopes the zipline will boost tourism. Municipal manager, Advocate Thys Giliomee, says tourists who come to Mossel Bay to experience the zipline will also have to eat and sleep somewhere, thus boosting the economy of the town.
Executive mayor, Alderman Harry Levendal, said at the official opening: "The Mossel Bay Municipality congratulates the directors of Mossel Bay Zipline on this innovative venture we are opening today.
"Dreams have become a reality. People will visit Mossel Bay to experience it. It will become a landmark."
Mossel Bay Tourism chief Aneli Gerber says having a world-class attraction in the zipline is a huge attribute to the tourism offering of the area. "Since the news spread of the opening of the zipline, Mossel Bay has received extensive exposure on a variety of platforms."
Mossel Bay mayor, Alderman Harry Levendal, cutting the zipline ribbon, with Albert Wiffen, Clinton Lerm and Mika Lutchman. Photo: Julian Scholtz
One of the Mossel Bay Zipline company directors, Clinton Lerm, and Dr Enrico Gennari (right) received the cash for the first ten tickets sold. Gennari will use it for his Oceans Research Institute. Photo: Julian Scholtz
'We bring you the latest Mossel Bay, Garden Route news'