GARDEN ROUTE NEWS - The Western Cape Provincial Department of Environmental Affairs and Development Planning (DEA&DP) indicated that the following information on the definition of a beach is correct:
According to Chapter 1(1) Definitions, of the Integrated Coastal Management Act, 24 of 2008 (ICM Act), a "seashore" can be defined as "the area between the low-water mark and the high-water mark".
As per the ICM Act, the high-water mark, in turn, can be defined as "the highest line reached by coastal waters, but excluding any line reached as a result of exceptional or abnormal floods or storms that occur no more than once in ten years, or an estuary being closed to the sea", whereas the low-water mark can be defined as "the lowest line to which coastal waters recede during spring tides".
As per the schematic below, the areas defined as seashore can be seen in yellow, between the high water mark (HWM) and low water mark (LWM).
All other areas, such as estuaries, lagoons, jetties, launch sites, open coastal waters, etc., can be regarded as still being open to the public.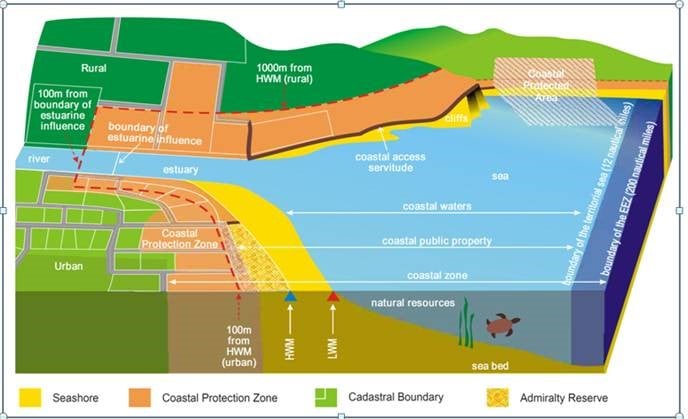 Image: Mossel Bay Municipality
'We bring you the latest Garden Route news'