WESTERN CAPE NEWS - Today, we are pleased to be able to report that 80 000 people in the Western Cape have been able to recover from COVID-19- a recovery rate of over 80 percent.
The majority of people who contract COVID-19 will experience mild symptoms which may include a fever, cough, sore throat, body aches, headaches and a loss of smell and taste.
These people will be able to recover at home, with symptomatic treatment. However, for those with underlying illnesses including diabetes, heart disease, lung disease or hypertension, the risk of becoming seriously ill are higher.
We have introduced new therapies including the use of dexamethasone and high flow nasal oxygen in our hospitals to treat patients, but preventing infection is still the best way to keep people over the age of 55 and those with comorbidities safe. Every life we lose to COVID-19 is one too many and we can all play a part in protecting the vulnerable and help to save lives.
If you have contracted COVID-19, you must self isolate for the recommended period of ten days.
If you are unable to self isolate at home, and especially if you share your home with someone who is at risk, such as your elderly parents, or someone with a comorbidity, quarantine and isolation facilities are available. These facilities are safe and comfortable and will allow you to recover, and protect your loved ones.
If you fall into a risk group, you must take extra precautions by staying home as much as possible, wearing your mask when you go outside and keeping your distance from other people.
The Western Cape Government has developed a strategy to minimize the risk for COVID-19 positive people with diabetes. Early indications are that this is already yielding positive results. Because of the higher risk, diabetics especially should seek to get tested as soon as they start to experience symptoms so that their case can be properly managed. For high risk diabetes patients, this may include early admission to the Hospital of Hope for monitoring and treatment.
Coronavirus figures for the Western Cape
As of 13:00 on 1 August, the Western Cape has 10 377 active cases of COVID-19, with a total of 94 197 confirmed cases and 80 750 recoveries.

The Western Cape has recorded an additional 30 deaths, bringing the total number of COVID-19 related deaths in the province to 3 070. We send our condolences to their family and friends at this time.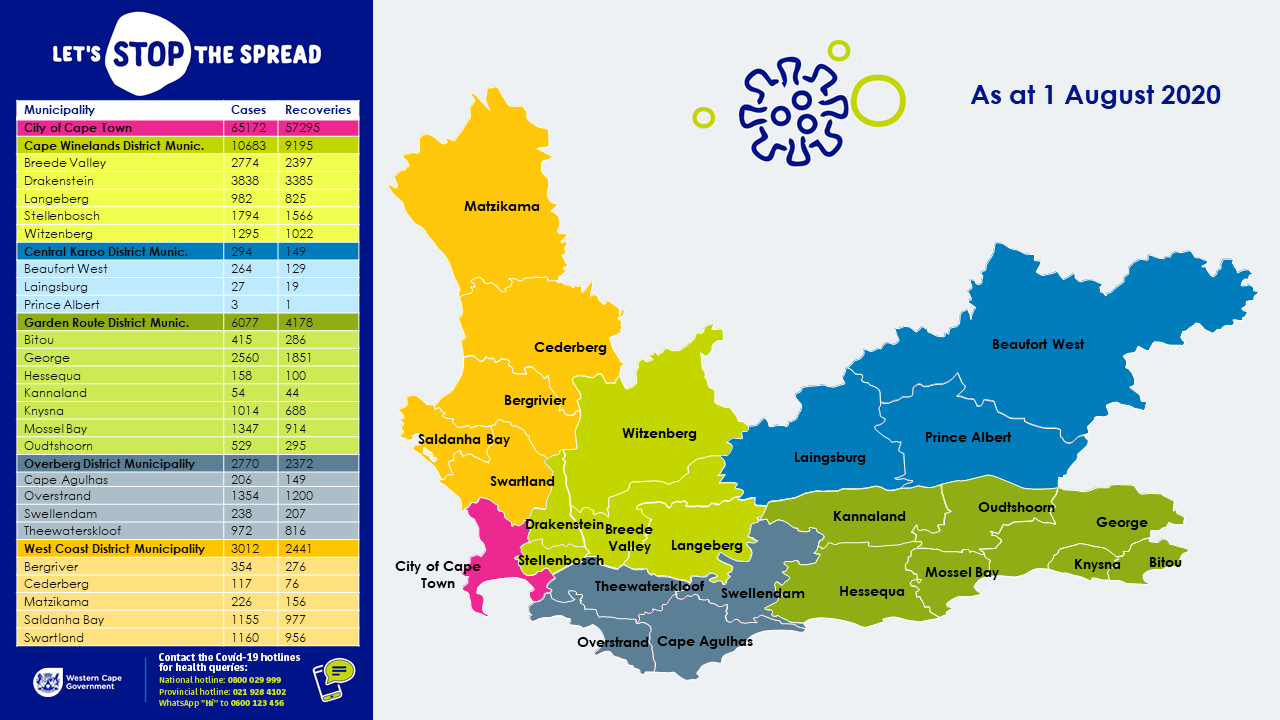 'We bring you the latest Garden Route, Hessequa, Karoo news'