WESTERN CAPE NEWS - The Western Cape has started to see a stabilisation in the number of COVID-19 infections, hosptalisations and deaths in certain parts of the province.
I would like to thank all of our residents who have played their part in making this happen by staying at home as much as possible, wearing their masks and practicing social distancing when they go out, and keeping up with hygiene protocols like hand washing, keeping surfaces clean and coughing and sneezing into an arm or an elbow.
These are small things that we can all do, which have a collective impact. We must continue these behaviours, especially now that the numbers have started to stabilise in order to ensure that we don't see second waves of infections forming.
COVID-19 will be around for many more months to come, and adapting how we live now, will not only help us avoid becoming sick or infecting our loved ones, but will also allow more businesses to start to operate fully again, and save thousands of jobs which currently hang in the balance.
We expect that the new tourism regulations will be gazetted in the next few days, which will allow intra-provincial tourism accommodation establishments to begin operating. The tourism sector is one of the biggest job creators in the Western Cape, especially in our small towns and rural areas and we are pleased that these establishments will be able to allowed to open for business.
We still intend to engage with the national government on ways that we can support other businesses in the province that are being negatively impacted by the alert level 3 regulations.
We must put all of our energy into averting the second pandemic of unemployment. I therefore call on all of these businesses to be responsible when you re-open and ensure that you are following all of the rules and guidelines set out for safe operations. We do not want businesses to become sites of infection, putting their staff and clients at risk, and which will ultimately only further negatively impact the sector.
For those residents who will be booking trips and stays once business has re-opened, we thank you for supporting this sector at this time but urge you to travel responsibly, and to continue taking the same precautions you would at home, while on your holidays and weekends away.
Covid-19 figures for the Western Cape
As of 13:00 on 31 July, the Western Cape has 10 532 active cases of COVID-19, with a total of 93 413 confirmed cases and 79 841 recoveries.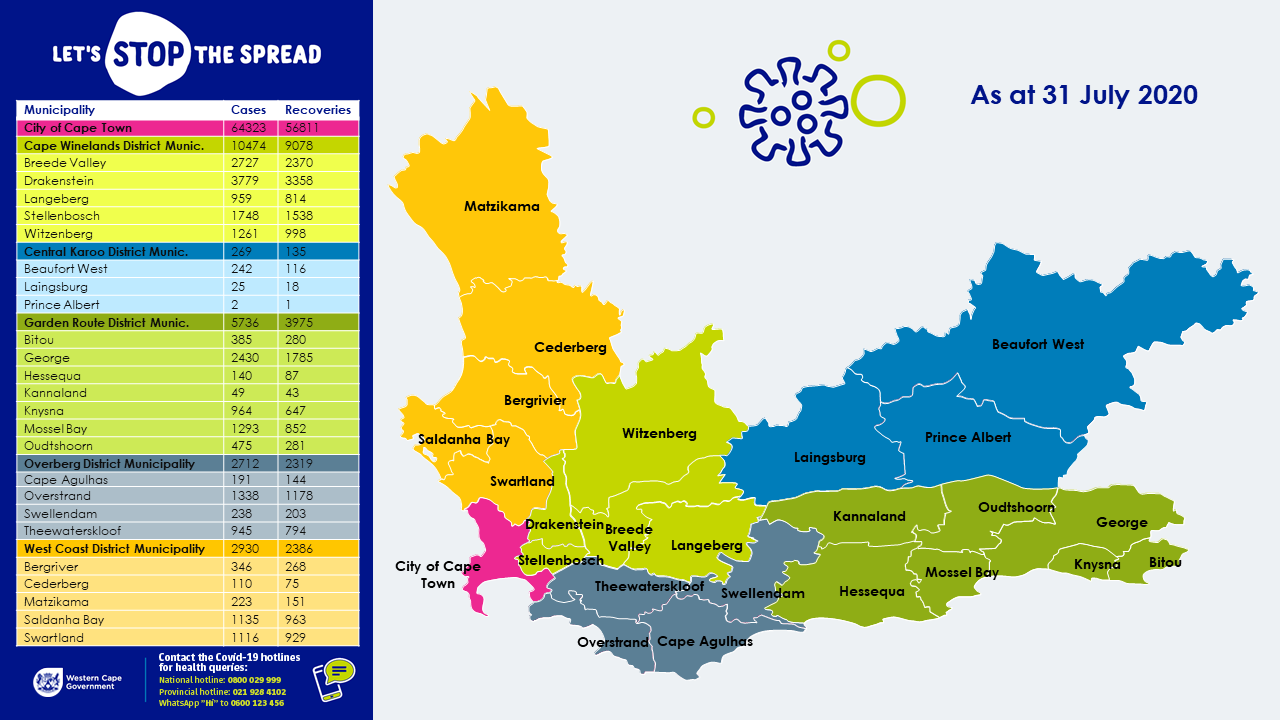 The Western Cape has recorded an additional 31 deaths, bringing the total number of COVID-19 related deaths in the province to 3 040. We send our condolences to their family and friends at this time.
'We bring you the latest Garden Route, Hessequa, Karoo news'