TUINROETE | KAROO NUUS - Boeke en koerante is goed vir jou brein, veral in hierdie tyd van inperking met elektroniese vergaderings en kommunikasie.
Met Vrydag 23 April wat wêreldwyd as Wêreldboek- en kopieregdag gevier word, het Pamsa (Paper Manufacturers Association of South Africa) 'n aantal interessanthede oor boeke in 'n persvrystelling aangeraak.
Volgens Pamsa het talle navorsingstudies getoon dat lees breinfunksie en begrip verbeter.
"Dit maak nie saak wat jy lees nie, solank jy lees," sê Samantha Choles, kommunikasiebestuurder van Pamsa, maar, voeg sy by. "Daar blyk 'n groter voordeel te wees om 'n fisiese papierboek te lees."
Alhoewel daar reeds verskeie kere voorspel is dat die elektroniese media die doodsklokke vir boeke sal laat lui, blyk dit egter dat papierboeke nog lank nie gaan lê het nie.
Volgens Pamsa is die huidige pandemie goed vir boekverkope met meer as 200 miljoen boeke wat in Brittanje verkoop is en meer as 750 miljoen in die VSA.
Volgens Choles is 'n boek, tydskrif of koerant die ideale manier om aan 'n oormag digitale blootstelling te ontsnap. Sy glo om 'n fisiese papierboek vas te hou en te lees dieselfde uitwerking op die brein het as wat fiksheidsoefeninge op die liggaam het.
As 'n voorbeeld van 'n gedrukte boek teenoor 'n elektroniese weergawe gebruik Choles die skrywer Julia Donaldson as 'n voorbeeld. Toe haar uitgewers haar kinderboek The Gruffalo as 'n e-boek wou uitgee het sy vasgeskop. In 'n onderhoud met The Guardian het sy gesê: "The publishers showed me an e-book of Alice in Wonderland. They said, 'Look, you can press buttons and do this and that', and they showed me the page where Alice's neck gets longer. I thought, well, if the child's doing that, they are not going to be listening or reading."
Plaaslik blyk dit ook die geval te wees dat papierboeke steeds, en dalk nog meer, in aanvraag is. Twee nuwe uitgewers, Minimal Press en Turksvy Publikasies het tydens die pandemie verskeie nuwe titels uitgegee en skrywers dui aan dat hulle meer as tevrede met die aanvraag na nuwe boeke is.
Wêreldboek- en kopieregdag word op 23 April gevier aangesien verskeie wêreldbekende skrywers soos William Shakespeare en Miguel Cervantes op 23 April oorlede is. Dié datum is deur Unesco in 1995 in Parys vasgestel om skrywers en boeke jaarliks te vereer.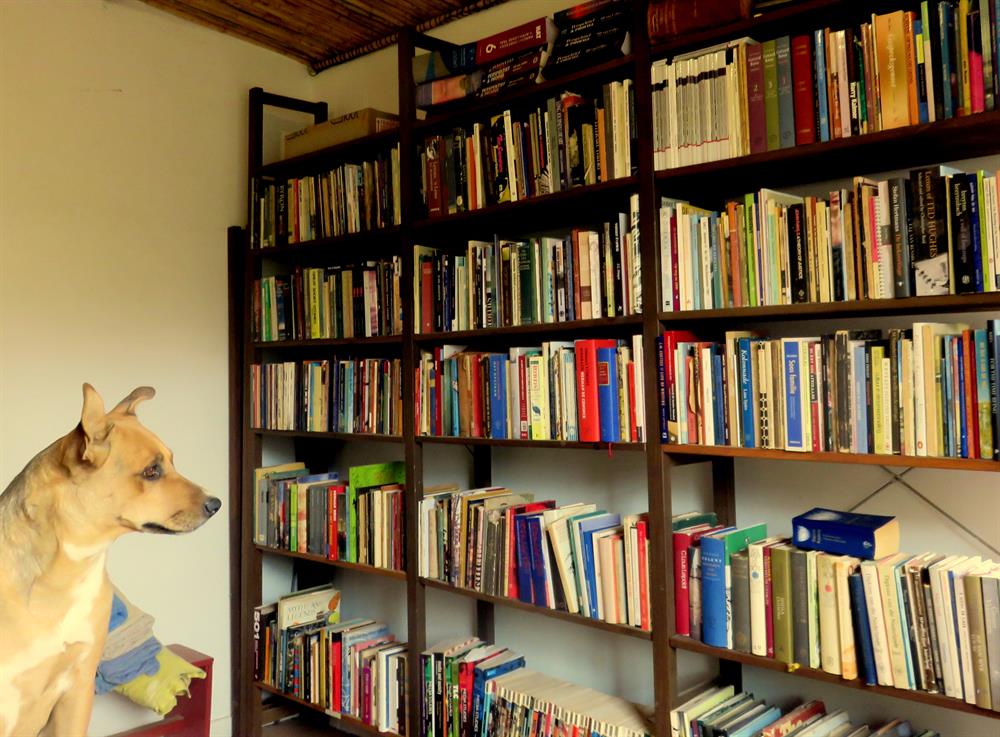 Emily Dickinson van Prins Albert, bewonder haar baas, die bekende digter dr. Daniel Hugo, se rak vol boeke. (Hierdie is slegs 'n klein gedeelte van die duisende boeke in Hugo se biblioteek). Foto: Marlene Malan
'Ons bring jou die nuutste Tuinroete, Klein Karoo nuus'