MOSSELBAAI NUUS - Na 'n week van aanpassings, is plaaslike skole wat op 1 Junie heropen het, stadig maar seker besig om gewoond te raak aan die nuwe protokol om met die koronavirus saam te leef.
Ook die Leolan Akademie vir leerders met spesiale behoeftes, het hierdie nuwe wêreld met dapperheid betree.
Volgens Yolandi Botha, eienaar en hoof van die skool, was die voorbereidings 'n lang en intense proses. Die onderwysers het ook voor die skool heropen het, geakkrediteerde opleiding ontvang oor hoe om die uitdagings wat Covid-19-virus in die skoolopset bied, die hoof te bied.
"Die skool het verlede week met 10 leerders heropen. Elke week, bring ons een tot twee leerders by totdat ons voltallig kan wees. Dit het baie beplanning geverg, omdat ons kinders mos maar 'anders' is." Botha sê dat 'n keuringsproses gebruik is om te besluit watter leerders eerste moes terugkom skool toe. Dit het onder meer berus op die leerders se ouderdom en ook hulle toegang tot privaat vervoer. Leerders kan slegs vier op 'n slag met die skoolbus vervoer word en geen van die personeel gebruik tans openbare vervoer nie.
Botha verduidelik dat die maklikste manier om die leerders gewoond te maak aan die nuwe normaal, die volg van 'n streng roetine is. "Ons het verskillende stasies geskep waar die leerders daagliks moet ontsmet. Kleure, soos geel en rooi, soortgelyk aan 'n verkeerslig word gebruik om hulle te herinner om te stop en te ontsmet of om te kyk en te wag, sodat sosiale afstand gehandhaaf kan word."
Sosiale afstand, meen Botha is die grootste uitdaging. "Dis vir ons baie moeilik om die kinders te laat verstaan dat ons nie tans drukkies kan gee of kan ontvang nie. Hulle floreer op liefde en aanraking en dis moeilik om hulle te laat verstaan dat hulle niks verkeerd gedoen het deur nie drukkies te ontvang nie."
Die dra van maskers is ook 'n uitdaging. "Om dit droog te hou, skoon te hou en meer nog seker te maak dat die gesig nie kort-kort aangeraak word nie, is nie maklik nie." 'n Drukkersonderneming in Mosselbaai het goedgunstiglik aan elke leerder 'n gesigskerm geskenk, wat makliker is om te gebruik as 'n masker.
Ten spyte van die skool se nuwe ontsmettingskedule, meen Botha dat hulle eintlik baie pret het. "Die belangrikste om vol te hou, is dat die onderwysers die prosedure moet deurgaan, sodat die kinders hulle voorbeeld bly volg."
Botha sê dat die inperkingstyd nie vir hulle of vir die leerders maklik was nie. "Dit was moeilik om nie by hulle te kon uitkom nie. Van die ouers was kreatief en het kalenders gemaak, waarop daar elke dag afgemerk is wanneer hulle weer kon terugkom skool toe. Een van ons leerders was vasberade om weg te loop van die huis af skool toe, omdat sy dit so baie gemis het."
In die klas is daar genoeg sosiale afstand.
Temperatuur word gemeet waar die geel voetjies voor die skool se ingang aandui.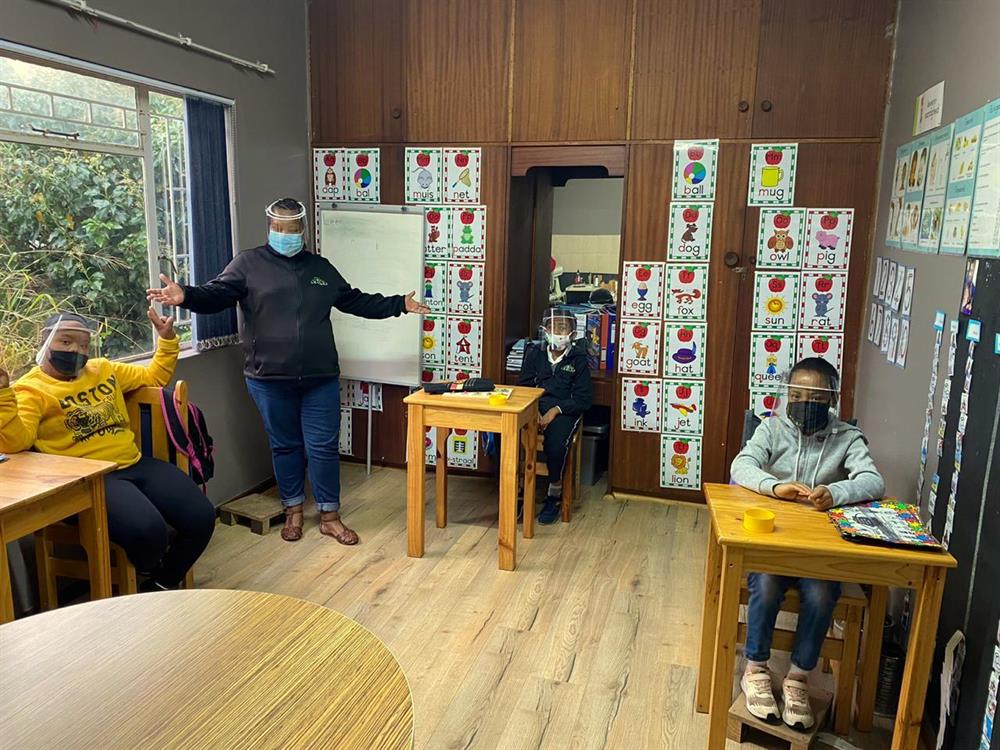 Binne die klas word seker gemaak daar is genoeg sosiale afstand.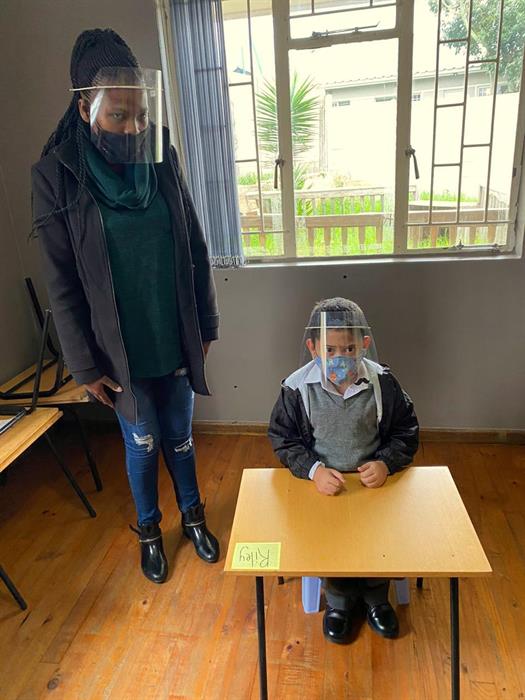 Gesigskerms is geborg deur 'n plaaslike onderneming.
'Ons bring jou die nuutste Mosselbaai, Tuinroete nuus'