MOSSEL BAY NEWS - Raymond Farnham of Little Brak is a hero, having rescued a large snail which was crossing Wassenaar Street, which skirts Hartbos Park, Seemeeuvlug and Gull Heights, among other townhouse complexes near Hartenbos.
The snail was about 17cm long.
Several snails have been spotted now that rain is falling regularly in the Mossel Bay area following the drought, but this was quite a large specimen, so it was a special find.
Infamous Wassenaar Street, on which motorists speed, is known for its "road kills", most of which are small antelope.
The Mossel Bay Advertiser has received many letters from angry residents who witness the reckless driving on this road and from time to time see the dead antelope which have been struck by cars, so it is specially noteworthy that Raymond found the snail there.
Raymond says: "I found it on Friday, 7 February. I'm a nature person. I have lived in the bush all my life.
"In my 45 years, I have only found four snails like this."
He kept the snail over the weekend and then let it go again in a bushy area further away from Wassenaar Street.
The Mossel Bay Advertiser asked South African snail expert Mary Cole about the find.
On receiving photographs, she said: "That is a lovely specimen of Cochlitoma zebra, common name, the zebra agate snail or simply zebra snail.
"It used to be called Achatina zebra. In really large specimens the shell itself can attain 140mm in length. The shells grow largest in areas where there is a lot of calcium in the soil.
"The snail occurs along the coast from Cape Agulhas to the East London area, with a few records east of this. It is very common between Port Elizabeth and East London. Apparently it also occurs in Cape Town but has likely been introduced there," the malacologist - studying molluscs and sea shells - continued.
"It inhabits leaf litter and eats vegetable matter. I have heard reports that it can be a nuisance in vegetable gardens. This was one of the first South African snails to be discovered and was described in 1792," Cole said. She is based at the East London Museum.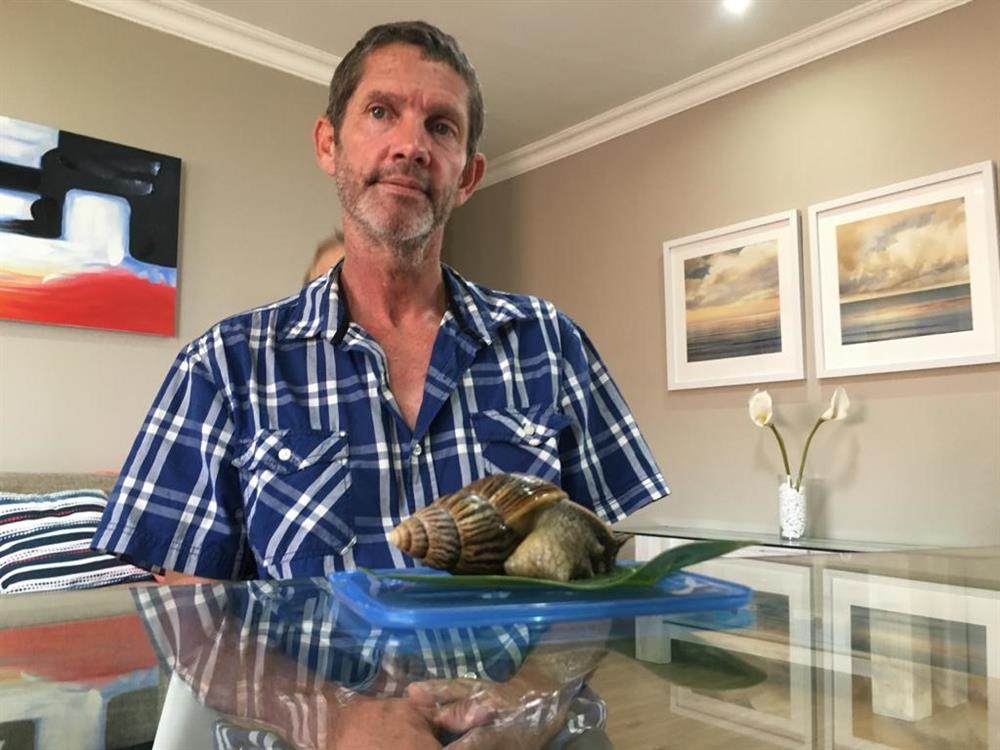 Raymond Farnham with his exciting find.
The snail was an impressive size.
'We bring you the latest Mossel Bay, Garden Route news'