MOSSEL BAY NEWS - The Great Brak River Conservancy will be hosting a community beach and estuary clean-up on Saturday, 3 April.
Not only will the clean-up concentrate on litter - permission has been received from relevant authorities to run a pilot project to remove floating, dying algae mats from points within the estuary.
By manually removing some of the dying mats, conservancy members aim to break the feedback loop and minimise the knock-on effects of a perpetual nutrient cycle.
The more willing hands on the day, the larger the impact which can be made.
How you can help:
Join in on 3 April, 09:00 to 12:00 (Beach patrollers meet at Suiderkruis Beach Parking area, algae removers meet on the Island. Look out for the conservancy's bright green teardrop banners.)
Spread the word and encourage others to get involved.
If you have access to a canoe or boat please bring it (don't forget your life jackets).
Tools such as pitchforks, rakes, buckets and garden forks will make collection of algae easier.
Make an "algae rake" and bring it. Don't forget to attach a rope.
Rakes need to be able to float as they are intended for the collection of surface algae and must not disturb the sediment or vegetation present on the estuary or river floor. They can either be used from the shore or towed behind a canoe or boat.
You can turn any garden rake into a buoyant algae rake. The more tools, vessels and ultimately human bodies on the day, the greater the impact on the algae will be.
For more information, contact Scott Thomson (scottjonathanthomson@gmail.com, 079 187 0257 or 044 004 0134).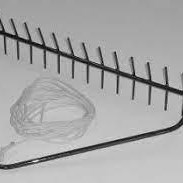 An example of a rake used for removing algae.
'We bring you the latest Mossel Bay, Garden Route news'