MOSELBAAI NUUS - Die koronavirus, Covid-19 het 'n rimpeleffek op Mosselbaai wat die dorp se ekonomie laat steier.
Mosselbaai en omliggende gebiede soos Groot-Brakrivier en Hartenbos is meestal afhanklik van die toerismebedryf en Mosselbaai akkommodasie-ondernemings ervaar sedert dié koronaviruspandemie, hoë kansellasiesyfers.
Toeriste het op grootskaal hul verblyf by plaaslike gastehuise, selfsorgeenhede en hotelle gekanselleer.
Die verskeidenheid van aktiwiteite wat besighede bied, ly ook onder dié hoogsaansteeklike virus en ondernemings wat gewoonlik groepe buitelandse toeriste trek, sien 'n duidelike afname in getalle.
President Cyril Ramaphosa het op Sondag, 15 Maart die uitbreek van Covid-19 tot 'n nasionale ramptoestand verklaar. Verskeie streng maatreëls is in plek gesit en toeriste van hoë risiko lande word verbied om Suid-Afrika te betree. Byeenkomste van 100 mense of meer word verbied en Suid-Afrikaners word aangemoedig om nie onnodig te reis nie.
Hoewel geen gevalle tot op hede op Mosselbaai gediagnoseer is nie, is groot byeenkomste wat jaarliks vir die dorp as ekonomiese inspuiting dien, gekanselleer of uitgestel.
Byeenkomste
Die gewilde Buffalo Rally, wat veronderstel was om in April by die ATKV-oord op Hartenbos plaas te vind, is uitgestel en die jaarlikse Klein Karoo Nasionale Kunstefees op Oudtshoorn is afgestel. Dié weeklange fees was veronderstel om op 23 Maart af te skop."Ons dorp ly 'n geweldige verlies weens die kansellasie van die Kunstefees omdat baie van die besoekers verblyf op Mosselbaai bespreek," sê die voorsitter van die Mosselbaai Besigheidskamer, Paul Kruger. Kruger is in verbinding met besigheidseienaars en sê Mosselbaai beleef 'n ekonomiese terugslag.
Die uitwerking het 'n rimpeleffek op alle ondernemings en restaurante op Mosselbaai toon tot op hede 'n 10% tot 15% afname aan besoekers. Kelners sit met hulle hande in hul hare, want die pandemie het 'n effek op hulle inkomste. "Groot én klein word deur die pandemie geraak," sê Kruger. "Mense wat verblyf bespreek neem aan 'n verskeidenheid aktiwiteite op die dorp deel, hulle benodig brandstof en ondersteun ons vulstasies en hulle koop kos. Ieder en elk word dus hierdeur geraak."
Toerisme direk geaffekteer
Inwoners op Mosselbaai wat verskeie restaurante en besighede besit sê hulle verwag dat sake eers gaan vererger voor dit verbeter. 'n Klavieroptrede deur Charl du Plessis in die Dias Museum wat deur die Mosselbaai Kunstevereniging gereël is, is afgestel en so ook talle ander groot byeenkomste.
Intussen sukkel apteke op Mosselbaai om voor te bly met gesigmaskers en handreiniger en SSK Agriland se Annelie van Wyk sê skoonmaakmiddels, toiletpapier en handreiniger vlieg van die rakke. Operasionele bestuurshoof van Mosselbaai Toerisme, Aneli Gerber sê die aankondiging van die nasionale ramptoestand het ongetwyfeld 'n groot invloed op internasionale besoekersgetalle. Gerber doen 'n beroep op die gemeenskap om veral nou, plaaslik te koop en die dorp se ondernemings te ondersteun.
Dit is tans te vroeg om 'n syfer aan die dorp se ekonomiese verlies te koppel, sê Gerber. "Dit bly belangrik om nie paniekerig te raak nie en gesondheidsmaatreëls na te kom.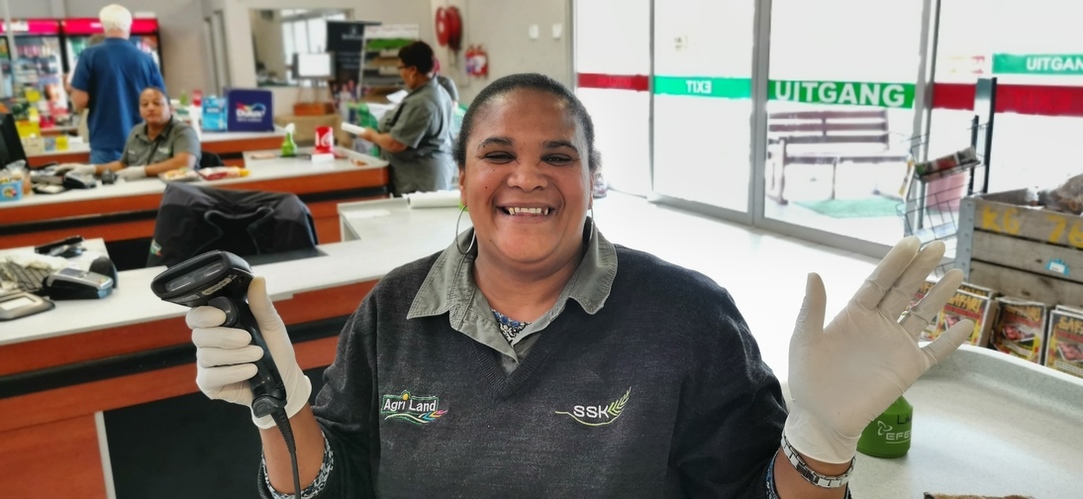 Lisinda Willemse, kassiere by SSK in Louis Fourieweg sê hulle het maatreëls in plek om te verseker dat hulself en hul kliënte veilig is. Foto: Jannie du Plessis
'Ons bring jou die nuutste Mosselbaai, Tuinroete nuus'