Video
MOSSEL BAY NEWS AND VIDEO - Social workers play an integral role in the Mossel Bay community, especially with regards to championing children's rights.
Between the Department of Social Development, Child Welfare and the ACVV Maatksaplike Dienste (social work services), the Mossel Bay area is divided into areas. Each of these bodies deals with a certain geographical area.
For the purposes of this article, the Mossel Bay Advertiser has focused on the ACVV, but if you are a social worker at another institution or government department and would like to tell your story, do contact the Advertiser to arrange an interview.
Personnel at the ACVV were asked about the challenges, the highlights and their needs with respect to their work.
Social worker Esterine Appels said she found it gratifying when she was working on a case and the parents' circumstances improved so they were able to care for their children and they co-operated with her. This was a highlight. As part of their job the social workers must give instruction on parenting skills.
Covid-19 and the lockdown scuppered social work, but now social workers are able to re-enter the field.
Appels notes: "Children are reluctant to attend school again. Also, parents who have lost their jobs have fallen into bad habits and addictions."
Watch a video below:
'Nerve wracking'
Discussing the different aspects of her job, Appels says: "Going to court can be nerve wracking. We have to make doubly sure of facts."
Facts such as these include verifying the address of parents, which can change at the drop of a hat. Proof has to be shown that the social worker has done everything possible in the best interests of the children and has investigated all possible options for their welfare.
Justifying one's actions to the magistrate is necessary.
Appels says it is fortunate the ACVV has a small staff who support each other. "We have good relationships and can go to [the most experienced social worker there] Amanda [Beukes] for advice and support. We have much respect for her. She 'carries' the office."
Appels says Beukes is protective of the staff. "If someone treats us badly, Amanda is on speed dial on the phone, wanting to know what is going on."
A heartbreaking part of the social workers' job is taking children out of abusive situations and transporting them to child and youth care centres.
'Aggressive parents'
They often have to deal with aggressive, drug- and alcohol-fuelled parents. Being accompanied by police for protection is necessary, but in some cases the presence of a police officer inflames the parents and they are defiant and aggressive, taunting the police.
"We are all women, so we do the work in pairs," Appels says. She points out that if parents are unemployed, the SASSA child grant is their only source of income and they do not want their children taken away because they will lose this monthly grant.
Amanda Beukes highlights the need for a "safety house" in Mossel Bay which can accommodate about 10 children. A house mother and father, staff and funding is necessary.
Beukes says the "safety fee" is extremely small, so not many people are able to make themselves available, at such a small fee, as a place of safety for children.
'Excellent Children's Court'
She says the ACVV requires food parcels, diapers and powdered milk. "We're fortunate we have an excellent Children's Court and clerk of the Children's Court here in Mossel Bay."
Beukes says: "We also have good co-operation from the Department of Social Development. Our reports have to go through them." She commends Social Development canalisation officer Melanie Honiball for her good work.
Because the ACVV is an NPO, it gets a partial subsidy from the state and has to do its own fundraising. It hires out crockery and tablecloths and sells adult diapers to raise funds.
Auxilliary worker Joycelyn Cupido says that because of a shortage of foster parents and places of safety, children end up children's homes. "Children who have no behavioural problems should rather be in foster care than in children's homes."
She said that sometimes children ended up sitting for a whole day at the ACVV offices while the social workers struggled to find a place for them to go to.
Prepared to take in babies
Many people are prepared to take in babies, but not toddlers or teenagers. Also, people want to adopt children, but not foster them.
Cupido says: "At least if children can be in a safe place during the day, it is a benefit, but in Mossel Bay and even more so in the rural areas, there are not enough early childhood development centres for the children. "Crèches and preschools are needed badly."
Social worker Danuelle Kruger said a highlight of her job was when she got a day to do her administrative work and report writing, which was extremely time consuming. Unfortunately it did not often happen that she had such a day. Many aspects of social work were not pleasant, she said.
If you are able to donate items for children and families in need or assist the ACVV in any way, call 044 691 1039.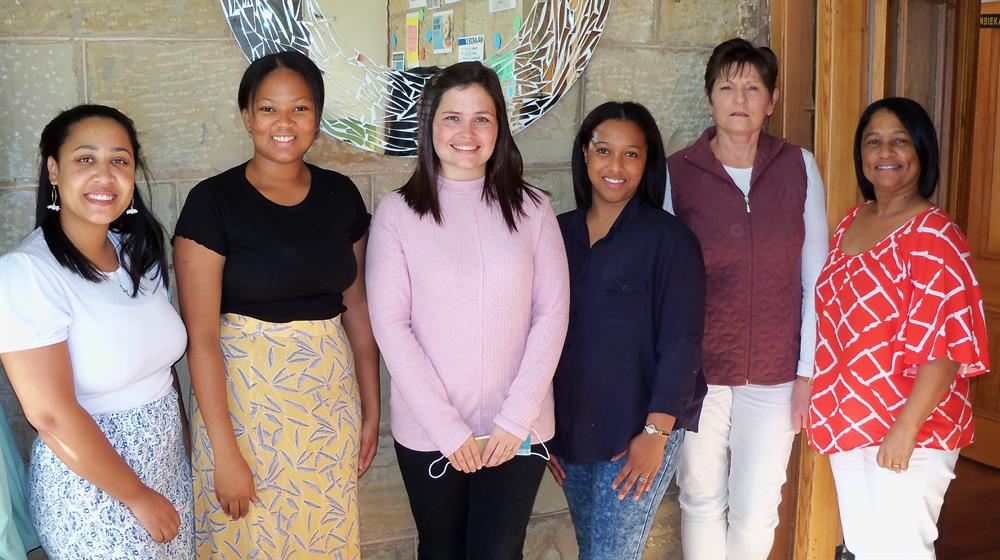 The ACVV team: Esterine Appels, student intern Junique Rhode, Danuelle Kruger, Joycelyn Cupido, Amanda Beukes and receptionist Shireen Martyns. Absent: Danielle Jantjies. Photo: Linda Sparg
'We bring you the latest Mossel Bay, Garden Route news'