Gallery
MOSSEL BAY NEWS - In writing articles it is preferable to focus on members of the community, not staff of the Mossel Bay Advertiser, but in the series of stories on Mossel Bay style icons, it is impossible not to feature Cornelle Carstens.
She is the news editor of the Advertiser.
Cornelle is the princess of retro and vintage fashion in Mossel Bay. There is no one who dresses like her or who wears vintage styles to the extent she does.
Bold and courageous, she defies current fashion trends, wearing bell bottom or bootleg pants when others are only wearing straight leg or skinny jeans.
She favours lacy, antique-looking blouses. One of hers has white pearls on the collar. She even sews strips of lace or gathered lace on to garments to create a vintage effect.
With her tiny waist, she carries off 50s-style dresses with aplomb, the nipped-in waist flaring out to a full skirt, flowing around the knee.
Photo gallery: Style icons - Cornelle Carstens
Cornelle buys a dress at a clothing chain, but will make it look vintage and wear it in a way no one else will.
She transforms them
Somehow, even at the most modern clothing store, her eye picks out those retro-looking numbers and she transforms them into a full-blown vintage look, with the right shoes and accessories and hairdo, making the clothes look unique and authentically vintage.
With her perfectly shaped brows and carefully applied make-up, Cornelle's look is always polished, even when she is casually dressed.
Her glossy dark hair, often swept into a bun - either tight and severe or loose and wispy - completes her polished look. She does her hair in different styles - sometimes even plaits - one on either side of her face.
Cornelle also "rocks" the casual, sporty look, but there will be an element of retro somewhere. She often wears flared pants or combat pants with sports shoes and perhaps a sporty jacket. A scarf or headband in a small floral print will lend the outfit that feminine, vintage touch.
Chameleon
She has has said the animal which she most relates to is the chameleon, because she changes her look so much. She has eyes which change from blue to aqua to pale or deep green, depending on the colour she wears, just as a chameleon changes.
Within the retro genre, Cornelle explores many different styles. It is as if she is switching into different characters on a film set. She even does the 80s thing, with a different, non-matching dangly earring in each ear. Sometimes she looks as if she has stepped off the Titanic, or off the set of an Agatha Christie movie.
She pays particular attention to accessorising every outfit differently. It is not a case of wearing the same silver or yellow gold jewellery with every outfit. She has a multitude of earrings in different styles. Pearl earrings are a favourite of hers. Belts and brooches are also important to her. Sometimes she "does" an extremely formal look, with a highly structured jacket and military style, medal-type brooches. Cornelle even wears men's neck ties sometimes - very 80s and 90s.
All one colour
Another favourite look of hers, she enjoys the old-fashioned style of wearing all items in an outfit - for example top, scarf, pants or skirt, shoes and belt - in shades of one colour. Women who enjoy this type of dressing usually have a multitude of clothes and shoes. With this style of dressing, Cornelle will usually favour all pink or all blue. Look out for the sweet, hand-knitted cardigans she often wears. A pink one and a plum-coloured one spring to mind.
With her vivid colouring and cool skin tone, she is best in blues and cool pinks, but chameleon that she is, she wears everything and anything in between.
She even "does" khaki and bottle green.
Despite her vibrant personality, you will seldom see her in red, although a deep red would suit her. She steers clear of warm yellows and oranges simply because they do not flatter her.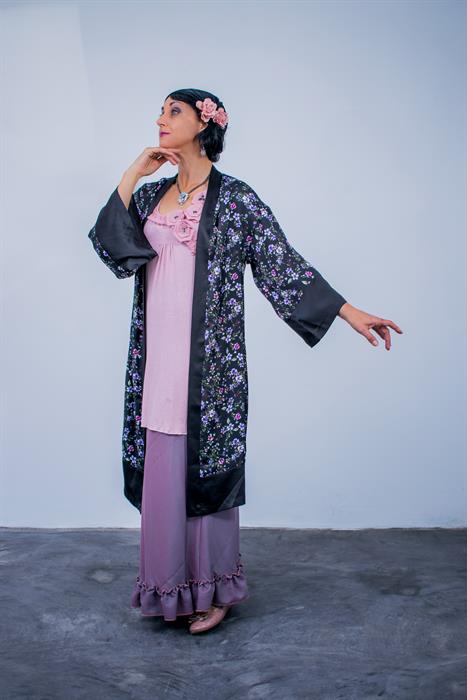 Ah, the 1920s.
'We bring you the latest Mossel Bay, Garden Route news'