Advertorial
GEORGE BUSINESS NEWS - Redberry Farm was established in 2000. Some visitors will remember Redberry Farm starting off with only a small strawberry field and a Farm Stall that was only open to the public a few days a week.
This family-owned business has grown into one of the largest tourism attractions in the Western Cape that welcomes both national and international tourists yearly.
Over the years Redberry Farm has expanded with a variety of fun activities for young and old, a restaurant, its own range of strawberry products, artisan eateries and delicious strawberries available all year round.
Redberry Farm is turning 20 this year! To celebrate this milestone Redberry Farm will be having a Birthday Celebration on 30 and 31 October 2020 and you are invited to join in on the fun. This weekend is free for all our loyal customers and suppliers to thank you for the contribution you made to the growth of Redberry
Farm over the past 20 years. Expect all the strawberry goodness you can imagine and a range of activities to keep the whole family entertained.
The Redberry Farm stage will be the centre of attention with live performances by Bridgette Deister and Rhino and the Rasta. The fun will continue with exciting and sticky adult and kids Strawberry Eat-offs and Strawberry Stomping competitions - there will also be great berry-inspired prizes to be won.
The Strawberry Emporium will be filled with unique strawberry-inspired sweets and treats. You can also expect spectacular strawberry specials with 20% off all fresh and frozen strawberries as well as Redberry Farm products.
Our famous Redberry Farm scones with cream and jam will also be on the special menu.
Kids will have a blast during this weekend with the Kid's Play Park where they can jump and slide on inflatables, decorate their own cupcakes, apply glitter tattoos, and express their creativity in the Creative Corner by colouring in and decorating sand art images of our mascots, Scarlet and Ruby. All the Redberry
Farm activities will be open, and we have an exclusive activity package available for the weekend that includes tickets to conquer the Largest Permanent Hedge Maze in the Southern Hemisphere, Pick Your Own Strawberries, race around the new track with Pedal Go Carts and ride the Redberry Express mini train.
Get your running shoes ready, because Saturday morning will kick off with the 5km Redberry Farm trail run. This beautiful trail run takes place with the Outeniqua Mountain as your backdrop on a scenic farm route between strawberry fields. The entry fee is R20 and all proceeds will go towards Options Care Centre.
Redberry Farm looks forward to spending this weekend celebrating with loyal customers, friends and families while enjoying the country life and sweet berry experience.
For more information on the Redberry Farm Birthday Celebration weekend, visit www.redberryfarm.co.za.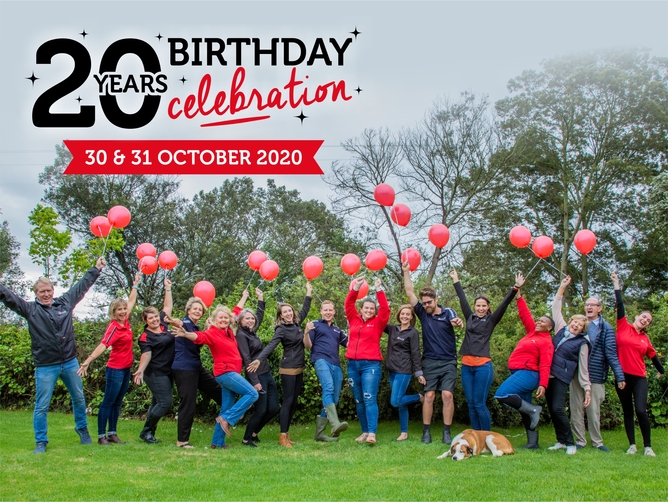 You are invited to join in the fun at Redberry Farm on 30 and 31 October as they celebrate their 20th birthday. From left are: Mark Miller, Janelle Miller, Mariska Landman, Anne-marie van Loggerenberg, Fiona de Villiers, Carien Piek, Chantelle Merry, Jonathan Miller, Simone Ousley, Pauli Kritzas, Gareth Massey-Hicks, Maidene Barnard, Bulelwa Thuthani, Jeannie Miller, Mike Miller, Nicole Vos and Chance, the Redberry Farm dog.
'We bring you the latest George, Garden Route news'