Gallery
MOSSEL BAY CRICKET NEWS - With the 2019/20 cricket season on hand, six cricket teams from as far as Mossel Bay and Port Elizabeth with its Jendemark Cricket Club, gave local Graaff-Reinet cricket lovers a good taste of what they can expect this season.
Click here for a photo gallery.
From Friday, 13 September until Sunday evening, 15 September the Montego T20 annual cricket challenge glued spectators to their seats, until the end at 22:00, when Mossel Bay Legends walked away as the league champs, when they beat the highly rated Jendemark in the final.
Players, spectators, and administrators were treated in a way that only Graaff-Reinet can achieve to make sure they will be back next year. Steaks on the braai and conversations that will never be forgotten, complemented the tournament.
The tournament was played at Botanics, Union High, and Volkskool, with the final at Botanics.
Ettiene Botha was fast between the wickets.
The results are as follows:
Friday, 13 September
Jendemark United beat Despatch
United CC Graaff-Reinet lost against Mossel Bay
Graaff-Reinet Invitational beat Barbarians
Saturday, 14 September
Jendemark United beat Graaff-Reinet Invitational
Despatch beat Mossel Bay.
United CC Graaff-Reinet beat Barbarians
Graaff-Reinet Oldies lost against Uitenhage Oldies
Despatch lost against Graaff-Reinet Invitational
Mossel Bay beat Barbarians
Jendemark United beat CC United Graaff-Reinet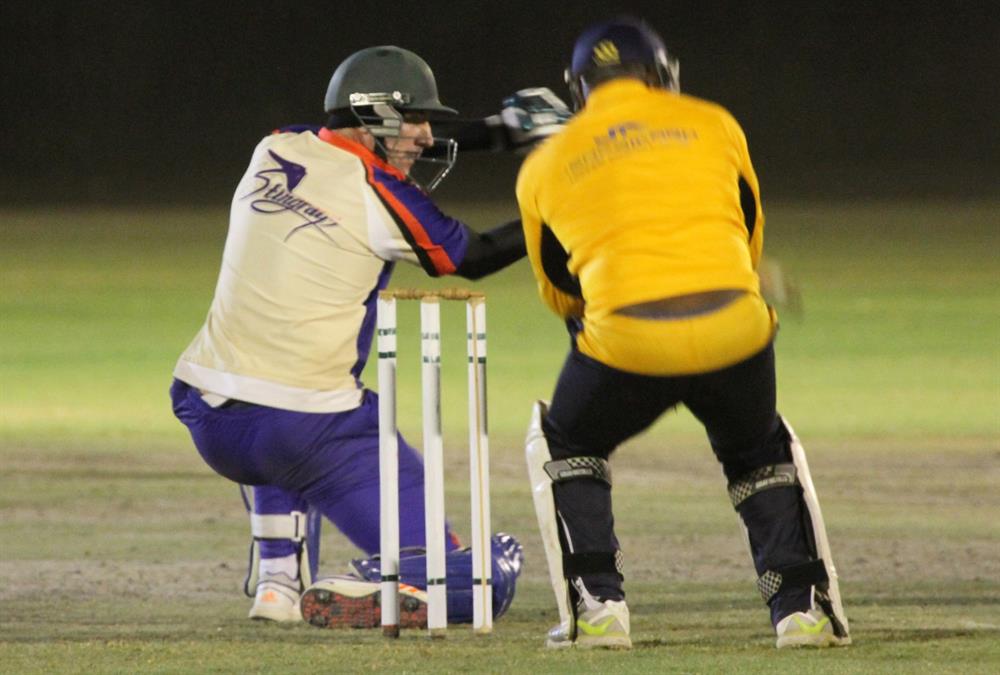 Neil Ferreira in front of the wickets.
Sunday, 15 September
Mossel Bay lost against Jendemark United
Despatch beat Barbarians
Graaff-Reinet Invitational lost against United CC Graaff Reinet
Jendemark United beat Barbarians
Mossel Bay beat Graaff-Reinet Invitational
United CC Graaff-Reinet beat Despatch.
Final
Jendemark United lost against Mossel Bay Legends.
Mossel Bay's Shaun Ferreira receiving the winning trophy from Willie van Rensburg. Photos: Christo Vermaak
'We bring you the latest Mossel Bay, Garden Route news'